The mean corpuscular hemoglobin , or "mean cell hemoglobin" (MCH), is the average mass of hemoglobin (Hb) per red blood cell (RBC) in a sample of blood. It is reported as part of a standard complete blood count. MCH value is diminished in hypochromic anemias.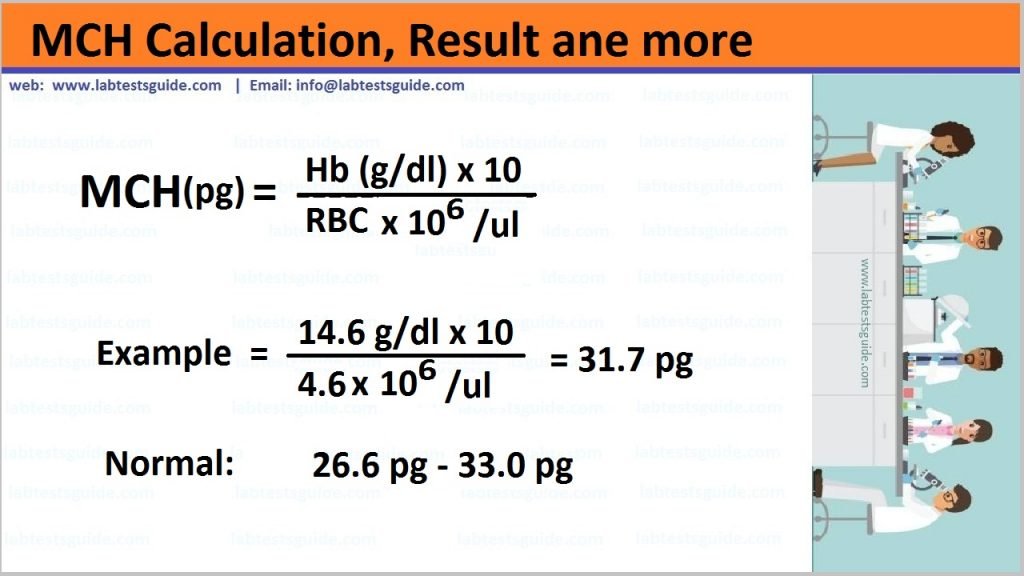 Test Panel: Hemoglobin, Red Blood Cells (RBC), HCT, MCV, MCH, MCHC, Platelets Count, White Blood Cells (WBC), DLC, ESR
Why Get Tested:
It is done as part of blood indices.
It is done to diagnose anemia.
When to get Tested:
when you have signs and symptoms of anemia (weakness, fatigue).
when you have signs and symptoms of polycythemia (dizziness, headache)
At regular intervals to monitor a disorder that affects RBCs and to evaluate the effectiveness of treatment
Sample Required:
The best sample is EDTA blood.
Stable 6 hours at 25 °C and 24 hours at 4 °C.
Fetal blood collected percutaneous from the umbilical area.
| | | |
| --- | --- | --- |
| Test Name | Male | Female |
| MCH | 26 – 32 pg | 26 – 32 pg |
Test Procedure or calculation
MCH Result will be detect with Calculation.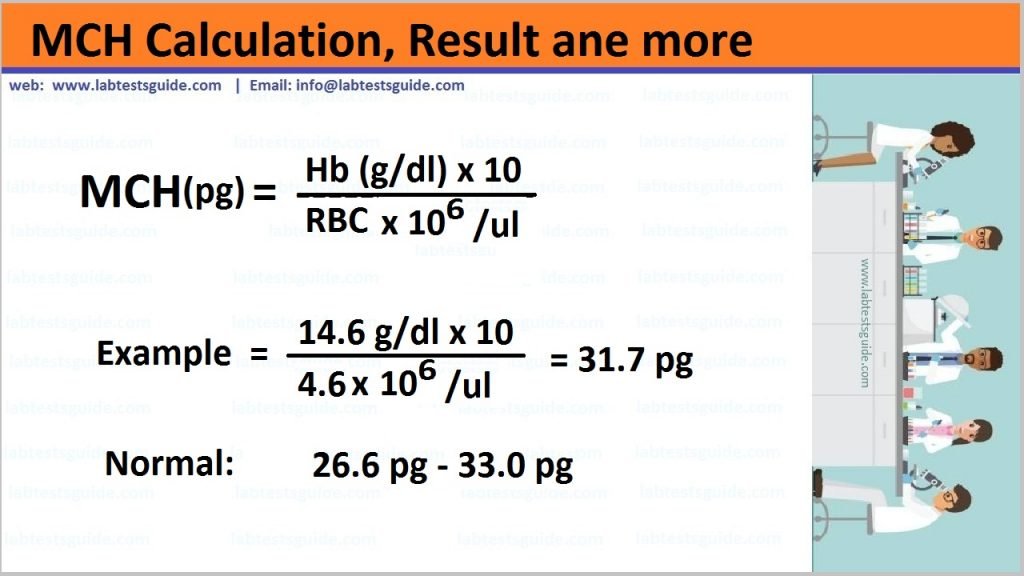 Increased MCH is seen in:
Macrocytic anemia and in newborn.
Decreased MCH is seen in:
Microcytic anemia.
Hypochromic anemia.
Related Articles:
The Indirect Antiglobulin Test looks for antibodies that are floating around in the blood. These […]

The indirect Antiglobulin (IAT test) looks for antibodies that are floating around in the blood. […]

The Indirect Anti-human Globulin Test looks for antibodies that are floating around in the blood. […]

The indirect Coombs test looks for antibodies that are floating around in the blood. These […]

he Direct Anti-human Globulin Test is used to detect antibodies that add here to the […]

The DAT Test (Direct Antiglobulin Test) is used to detect antibodies that add here to […]

The Direct Antiglobulin test is used to detect antibodies that add here to the surface […]

The Anti Human Globulin Test checks your blood for antibodies that attack red blood cells. […]
Related Articles:
Spot Sample to be collected at any time during the day. It is usually used […]

Indirect Coombs Test Procedure, Result Interpretations, Positive and Negativ Tesults Mean, Sample, Test Precautions, Methods […]

The Indirect Antiglobulin Test looks for antibodies that are floating around in the blood. These […]

The indirect Antiglobulin (IAT test) looks for antibodies that are floating around in the blood. […]

The Indirect Anti-human Globulin Test looks for antibodies that are floating around in the blood. […]

The indirect Coombs test looks for antibodies that are floating around in the blood. These […]

he Direct Anti-human Globulin Test is used to detect antibodies that add here to the […]

The DAT Test (Direct Antiglobulin Test) is used to detect antibodies that add here to […]