A blood sugar test is a procedure that measures the amount of sugar, or glucose, in your blood. Your doctor may order this test to help diagnose diabetes.
Also Known as: Fasting Blood Sugar, FBS, Fasting Blood Glucose, Blood Sugar Fasting, BSF, BSL
Test Panel: Blood Sugar, Fasting Blood Sugar, FBS, Fasting Blood Glucose, FBG, Fasting Plasma Glucose, FPG, Blood Glucose, Oral Glucose Tolerance Test, OGTT, GTT, Urine Glucose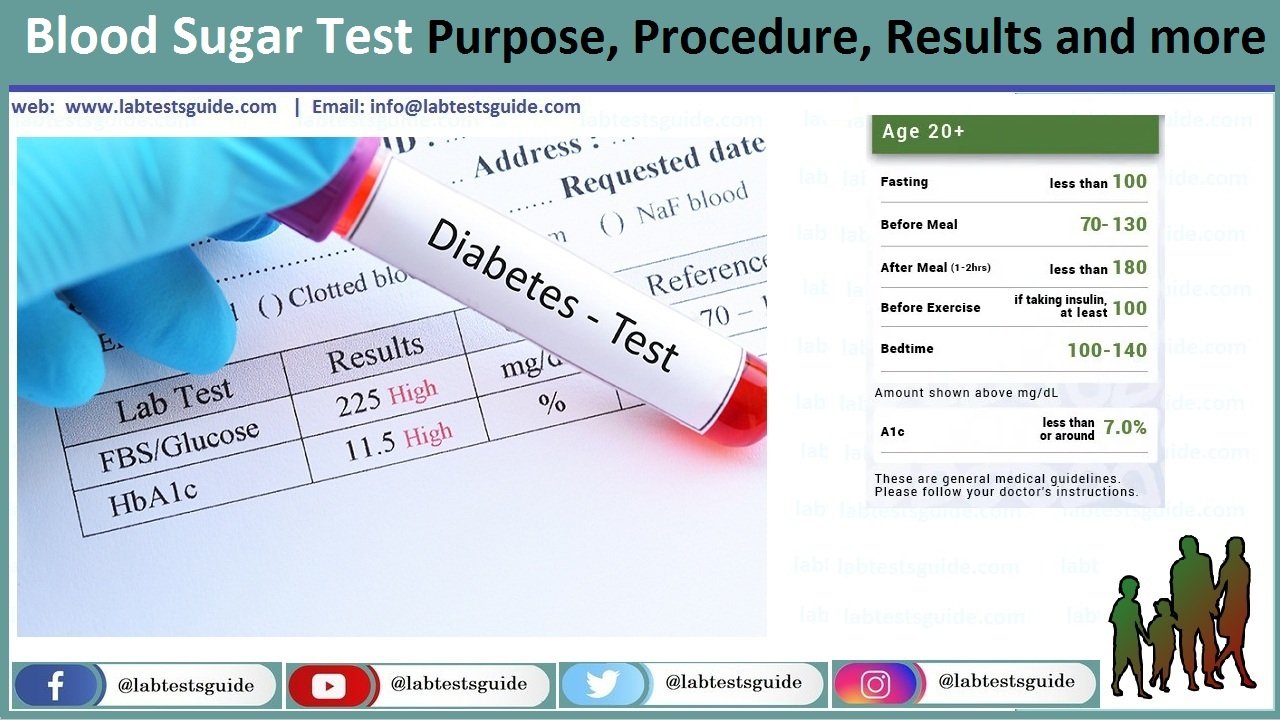 Tests in Glucose Panel:
BSR, BSL, BSF, OGTT, GTT, GCT, Urine Sugar, HbA1c,
Why Get Tested:
This test is done to diagnose diabetes mellitus.
This test is also done to evaluate and monitoring of the patient with diabetes mellitus.
When to Get Tested:
Blood glucose: when you are older than 45 years or have risk factors for diabetes; when you have symptoms suggesting high or low blood glucose; during pregnancy; when you are diabetic, self-checks up to several times a day to monitor blood glucose levels
Sample Required:
This test can be done on Serum. The serum should be separated within 30 minutes of collection.
The serum can be stored at 25° C for 8 hours and 72 hours at 4 °C.
Oxalate blood can also be used. Preservative sodium fluoride may be added.
The plasma can be stored at 25 °C for 24 hours (when there is preservative sodium fluoride).
Normal Values:
Fasting Blood Sugar: 74 to 106 mg/dL (4.5 to 5.9 mmol/L)
Random Blood Sugar: 80 to 120 mg/dl (4.4 to 6.6 mmol/L).
Increase glucose level (Hyperglycemia) seen in:
Diabetes mellitus, adult and juvenile.
Physiological causes.

Strenuous exercise.
Strong emotions.
Shock and burns.
Infections.

Endocrine disorders.

Thyrotoxicosis
Acromegaly and gigantism.
Pheochromocytoma.
Cushing's syndrome.

Pancreatic diseases.

Acute and chronic pancreatitis.
Pancreatitis due to mumps.
Cystic fibrosis.
Hemochromatosis.
Pancreatic cancers.

other causes are:

Cerebrovascular accident.
Chronic liver disease.
Chronic renal disease.
Acanthosis nigricans.
Decreased glucose level (Hypoglycemia) seen in:
Pancreatic disorders.

Islet Cell Tumor.
Glucagon deficiency.

Tumors.

Adrenal gland carcinoma.
carcinoma of stomach.
Fibrosarcoma.

Liver diseases.

In poisoning e.g. arsenic, chloroform, carbon tetrachloride, phosphorus, salicylates, antihistamines, phenformin, and alcohol.

Endocrine disorders.

Hypopituitarism.
Addison's disease.
hypothyroidism.

Functional disorders.

Postgastrectomy.
Gastroenterostomy.
Autonomic nervous system disorders.

Pediatric causes.

Prematurity.
Infant diabetic mothers.
Idiopathic leucine sensitivity.

Enzyme deficiency.

Galactosemia.
Fructose intolerance.
Von Gierke's syndrome.