ALT is an enzyme found in the liver that helps convert proteins into energy for the liver cells. When the liver is damaged, ALT is released into the bloodstream and levels increase.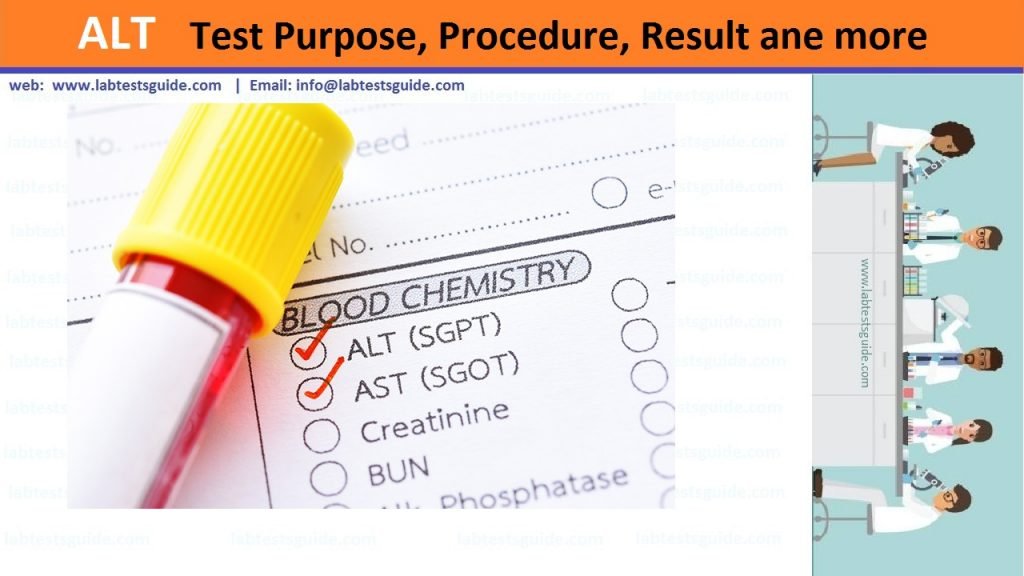 Also Known as : ALT, Serum Glutamic-Pyruvic Transaminase, SGPT, GPT, Alanine Transaminase, ALAT
Test Panel: Total Bilirubin, Conjagated Bilirubin, Unconjugated Bilirubin, ALT, AST, ALP, Total Protein, Albumin, Globulin, A/G ratio, GGT,
Why Get Tested :
A liver function test is often recommended in the following situations:
When to Get Tested :
When ALT Test Orderd :
A liver panel, or one or more of its components, may be ordered when someone is at risk for liver dysfunction. Some examples include:
A liver panel may be ordered when a person has signs and symptoms of liver disease; however, most people who have liver disease do not have any of these symptoms until the disease has been present for many years or is very severe. Some of these include:
Usually no one single set of liver tests is used to make a diagnosis. Often, several liver panels will be ordered over a few days or weeks to help determine the cause of the liver disorder and evaluate its severity
Sample Required:
Precautions For Sample:
Drugs that may increase the SGPT value are like acetaminophen, aminosalicylic acid, ampicillin, allopurinol, cephalosporin, chlorpropamide, clofibrate, cloxacillin, codeine, indomethacin, INH, Methyldopa, methotrexate, nalidixic acid, quinidine, phenylbutazone, phenytoin, salicylates, tetracycline, and propanol.
Ideally perform the test as soon as possible or on the same day. Because the storage of the sample is not satisfactory.
Normal Value :
| | | |
| --- | --- | --- |
| Age | Male U/L | Female U/L |
| Newborn to 1 Year | 13 to 45 | 13 to 45 |
| Morethen 1 Year | 10 to 40 | 7 to 35 |
The increased ALT level is seen in:
Viral hepatitis. There is markedly increased the level.
Drug-induced hepatitis.
Chronic hepatitis.
Infectious mononucleosis.
Intrahepatic cholestasis.
Cholecystitis.
Active cirrhosis.
Metastatic tumors of the liver.
Obstructive jaundice.
Alcoholic cirrhosis.
The mild increase is seen in :

Myosotis.
Pancreatitis.
Myocardial infarction.
Infectious mononucleosis.
Related Tests:
Theses tests to be tested in Liver Function Tests (LFT's) :
---
Possible References Used
---