Aldolase is an enzyme that helps convert glucose (sugar) into energy. It is found throughout the body, but is primarily found in elevated levels in muscle tissue.
Aldolase levels in the blood increase when a person has muscle damage. The aldolase blood test may be ordered to diagnose and monitor certain conditions related to skeletal muscle. It has largely been superseded by other muscle enzyme tests, especially CK (creatine kinase). However, a minority of people with muscle pain may have an elevated aldolase level even though their creatine kinase is normal. Therefore, rheumatologists may sometimes request the test in addition to creatine kinase.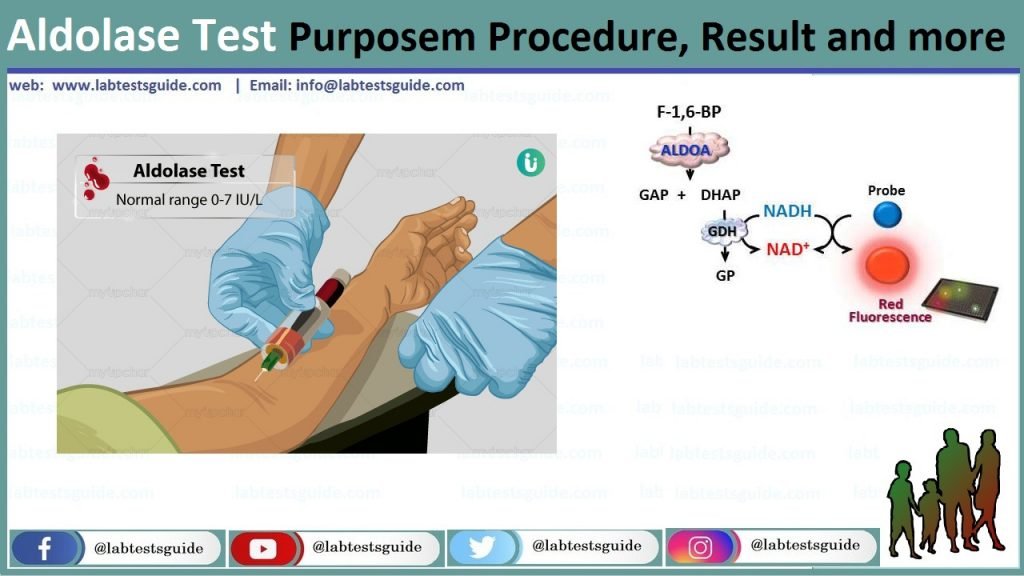 Specimen Required
| | |
| --- | --- |
| Collect | One 5 mL gold (SST) top tube. |
| Transport | 1 mL serum at 2-8°C. (Min: 0.5 mL) |
| Remarks | Allow to clot completely at room temperature AND separate serum from cells within 2 hours of collection and refrigerate. |
| Stability | After separation from cells: Ambient: 8 hours; Refrigerated: 5 days; Frozen: 6 months |
| Unacceptable Conditions | Hemolyzed samples. Plasma or whole blood samples. |
Sampling Precautions
The previous muscular injection may increase the aldolase level.
Drugs that are hepatotoxic may increase the level.
The phenothiazine may decrease the aldolase level.
Normal Values:
Adult = 1.0 to 7.5 U /L
Newborn = 4 X adult level

Values are double in early childhood and then fall to a normal level slowly by the 18 to 20 years of age.

Children  10 to 24 months = 3.4  to  11.8 U/L

child 25 months to 16 years = 1.2 to  8.8 U/L
Another source
Adult = 22 to 59 mU/L at 37  °C
Child = Approximately 2 times the adult value.
Newborn = Approximately 4 times the adult value.
The Aldolase Level Is Increased In:
Cell destruction like Acute myocardial infarction (5 to 8 times of the normal).
Burns.
Acute Hepatitis (Viral or toxic). It is raised in the early stage of viral or toxic hepatitis.
Inflammatory diseases of muscles (Myopathy).
Raised in skeletal muscle disease or injury.
Raised in Muscular dystrophy.
Myelocytic leukemia (about 6 times of the normal).
Megaloblastic and hemolytic anemia (about 10 to 13 times of the normal).
Aldolase Is Normal In:
Neurogenic muscle atrophy.
Cirrhosis (or maybe slightly increased).
Obstructive jaundice (or maybe slightly increased).
Decreased Aldolase Level Is Seen In:
Hereditary fructose intolerance.
Loss of muscle mass
---
Possible References Used
---