A urinalysis is a test of your urine. A urinalysis is used to detect and manage a wide range of disorders, such as urinary tract infections, kidney disease and diabetes.
A urinalysis involves checking the appearance, concentration and content of urine. Abnormal urinalysis results may point to a disease or illness.
Alternative Names
Red blood cells in urine; Hematuria test; Urine – red blood cells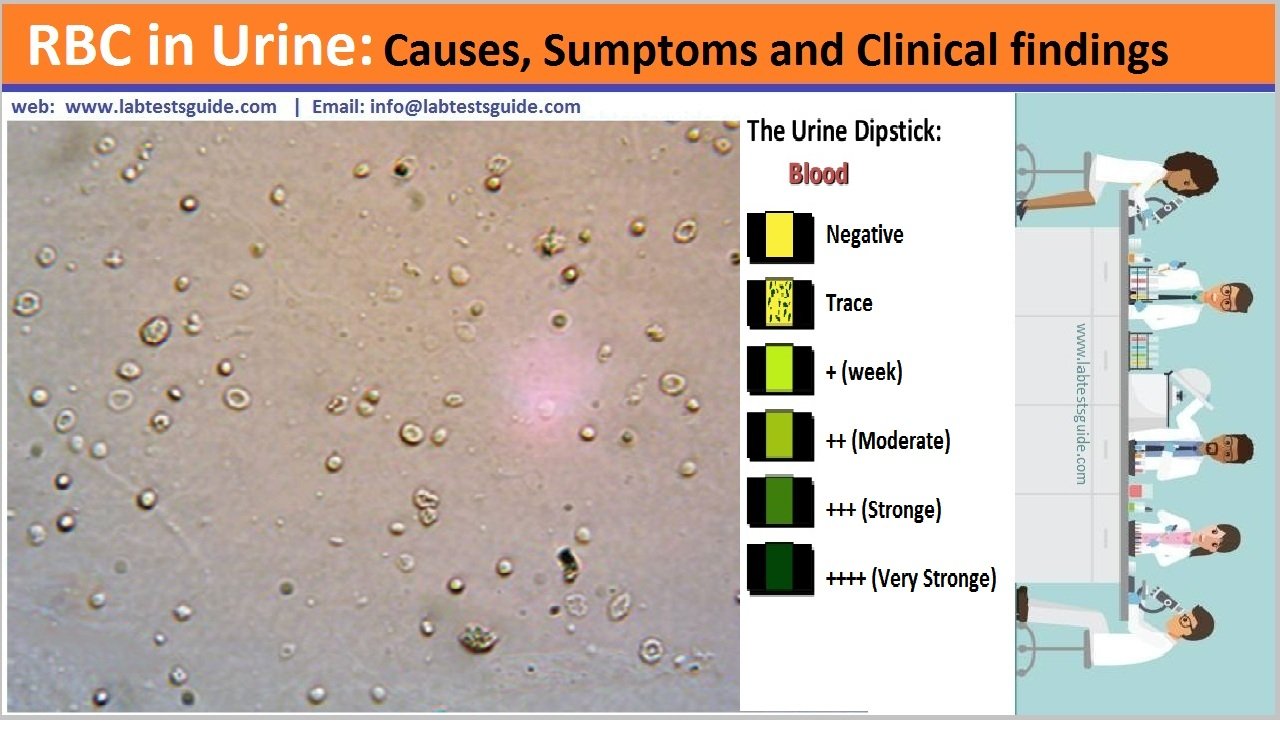 Also Known as: Urine Test, Urine Analysis , Urine CE, Urine C/E, UCE, Urinalysis
Test Panel: Physical properties, Chemical Tests, Dipstick Tests, Microscopic Examination
Type of urine samples:
Random sample:
This is a diluted urine sample and may give an inaccurate interpretation of patient health. But is best to do microscopy to evaluate WBC or RBC.
First Morning sample:
This is the best sample for microscopy and urine analysis. This is the concentrated urine because of urine remained throughout the night in the urinary bladder. This will contains an increased concentration of analytes and cellular elements. Urine must have remained in the bladder for 8 hours is considered as the first-morning sample.
Urine for sugar (Postprandial 2 hours):
Postprandial 2 hours sample collected after 2 hours of high carbohydrate diet.
Midstream clean catch urine:
This sample is needed for the culture and sensitivity of urinary infection. The patient is advised to clean the urethra, then discard the first few mL of urine. Now midstream of the urine is collected in the sterile container.
24 Hours of a urine sample

In this case, discard the first urine and note the time.
Now collect urine in the container for 24 hours and put the last sample in the container.
Refrigerate the sample.
This 24 hours samples are needed for measuring urea, creatinine, sodium, potassium, glucose, and catecholamines.

Suprapubic collection of the urine sample:
This is done in the patients who cannot be catheterized and the sample is needed for culture. This sample is collected by the needle.
Catheter collection of urine:
This is done by patients who are bedridden and can not urinate.
Pediatric urine sample:
In infants, special collection bags are made adherent around the urethra. Then urine is transferred to a container.
Urine Microscopic Examination:
During this exam, several drops of urine are viewed with a microscope. If any of the following are observed in above-average levels, additional testing may be necessary:
Microscopic Tests:
Red Blood Cells (RBC) in Urine
Blood in the urine means there are red blood cells (RBCs) in the urine. Often, the urine looks normal to the naked eye. But when checked under a microscope, it contains a high number of red blood cells. In some cases, the urine is pink, red, or the color of tea, which you can see without a microscope.
Red blood cells (RBCs) can be present in your urine, whether you see pink in the toilet bowl or not. Having RBCs in your urine is called hematuria.
There are two types of hematuria:
Gross hematuria means blood is visible in your urine.
Microscopic hematuria involves RBCs that can only be seen under a microscope.
Causes RBC in the Urine:
he positive test for blood indicates the presence of RBCs.
Hematuria is a disorder of renal or genitourinary origin where the bleeding is due to trauma or damage to the organs.

Main causes are:

Renal calculi.
Glomerular diseases.
Pyelonephritis.

Hemoglobinuria may result from the lysis of RBCs. There will be mixed hemoglobinuria and hematuria.

In alkaline urine, there may be lysis of RBCs in the urinary tract.
Intravascular hemolysis, no RBCs are seen in the urine.

Myoglobinuria is a heme-containing protein found in the muscles. This is seen in Rhabdomyolysis like :

Crush syndrome.
Convulsions.
Muscle-wasting disease.
Heroin abuse.
Prolonged come.
Extensive exertion.  

Red blood cells in the urine may be caused by:

Kidney or bladder injury.
Inflammation of the kidneys (glomerulonephritis).
Kidney or bladder tumor.
An autoimmune disease like systemic lupus erythematosus (SLE)
Clinical Finding with Other Tests:
| Lab test | Myoglobinuria | Hemoglobinuria |
| --- | --- | --- |
| Serum Creatinine kinase | Increased | Normal |
| Serum LDH | Increased | Normal |
| Urine Precipitation test supernatant | Positive (Red color) | Negative |
Symptoms of Blood in the Urine:
There not be enough blood in the urine to change the color, but in severe cases, the urine may look pink, red, or tea colored.
How the Test is Performed
A random sample of urine is collected. Random means that the sample is collected at any time either at the lab or at home. If needed, the health care provider may ask you to collect your urine at home over 24 hours. Your provider will tell you how to do this.
A clean-catch urine sample is needed. The clean-catch method is used to prevent germs from the penis or vagina from getting into a urine sample. To collect your urine, the provider may give you a special clean-catch kit that contains a cleansing solution and sterile wipes. Follow instructions exactly so that the results are accurate.
How to Prepare for the Test
No special preparation is necessary for this test.
Related Articles:
It describes how a bacterial sputum culture is used, when a bacterial sputum culture is […]

Pleural Fluid for AFB testing may be used to detect several different types of acid-fast […]

CSF for AFB testing may be used to detect several different types of acid-fast bacilli, […]

Bronchial Washing for AFB testing may be used to detect several different types of acid-fast […]

Sputum AFB testing may be used to detect several different types of acid-fast bacilli, but […]

An acid-fast bacteria (AFB) culture is done to find out if you have tuberculosis (TB) […]

An acid-fast bacteria (AFB) culture is done to find out if you have tuberculosis (TB) […]

An acid-fast bacteria (AFB) culture is done to find out if you have tuberculosis (TB) […]