After fixation, tissue samples need to be properly trimmed to reach the adequate size and orientation of the tissue. This step is also important to reach a sample size that is compatible with subsequent histology procedures such as embedding and sectioning.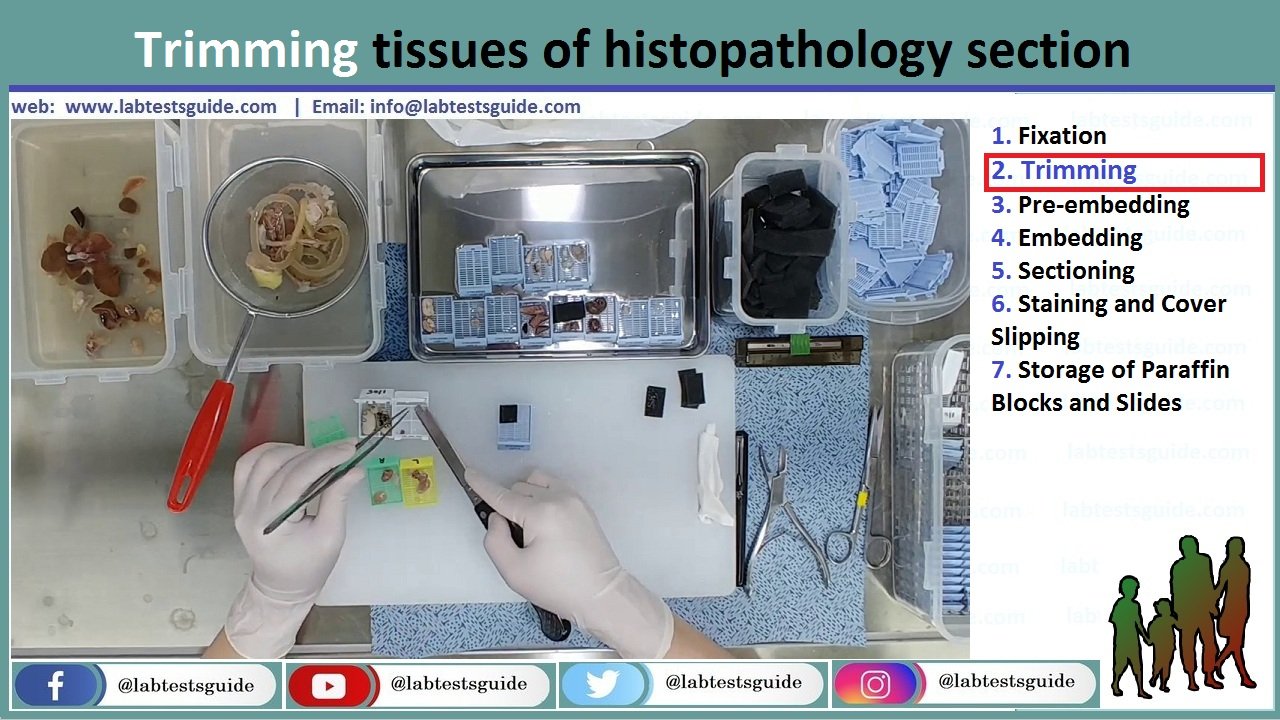 Hard tissues (such as bones and teeth) must be decalcified before trimming.
Under a fume hood, remove tissue samples from the fixative container or jar.
Trim one or more small pieces of tissues and organs and fit them into cassettes.
Place a lid on the cassette.
Label each cassette with a permanent ink.
Store cassettes in a fixative container.
There are specific rules that should be followed for trimming of each tissue and organ. These depend on the goal of the histopathology evaluation. Standardized methods for toxicology studies in drug safety evaluation are available online . These are also described in the comprehensive papers from the RITA group (Registry of Industrial Toxicology Animal data). Specific methods have been proposed for many organs: gut, heart, male reproductive system (12–14), female reproductive system, or muscle.
Materials:
Realted Posts
RSS Error: https://www.labtestsguide.com/category/tests/histopathology/rss is invalid XML, likely due to invalid characters. XML error: > required at line 938, column 16
Keywords: histopathology procedure pdf ,histopathology procedure ppt ,histopathology procedure manual ,histopathology staining procedure ,fish histopathology procedure ,histopathology lab procedures ,histopathology complete procedure ,histopathology slide preparation procedure ,histopathology lab procedure ,histopathology policy and procedure ,procedure for histopathology ,procedure in histopathology ,histopathology laboratory procedure ,procedure of histopathology ,histopathology tissue processing procedure ,routine histopathology procedure ,histopathology staining procedure pdf ,histopathology test procedure
---
Possible References Used
---