In transfusion medicine, cross–matching or crossmatching (part of series of steps in blood compatibility tests) is testing before a blood transfusion to determine if the donor's blood is compatible with the blood of an intended recipient.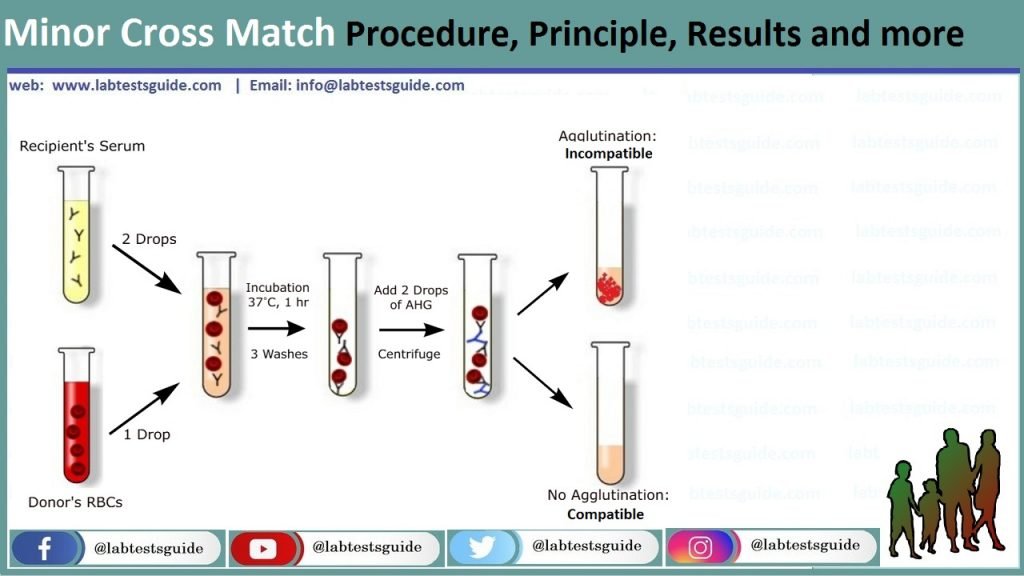 Why to Get Cross matching :
Crossmatching is a test used to check for harmful interactions between your blood and specific donor blood or organs. It can help your doctor predict how your body will react to those donor materials.
Cross matching plays important role to detect:
Most recipient antibodies directed against donor's red blood cell antigens.
Most donor antibodies directed against recipient's red blood cell antigens.
Major errors in ABO grouping, labeling and identification of donor and recipients.
Why do I need this test?
You may need this test if you need or may need a blood transfusion. For example, you might need a blood transfusion if you have an acute hemorrhage that causes a severe loss of red blood cells.
You may also have this test if you are having certain medical procedures that could cause significant blood loss, such as a cesarean section, a renal biopsy, or a cholecystectomy.
You may also have this test if you:
Have severe anemia or a condition that causes severe anemia, such as sickle cell disease or thalassemia
Have cancer and your healthcare provider wants to check the effects of chemotherapy
Have a bleeding disorder such as hemophilia
Are pregnant, to find out if you are Rh negative or positive
May be getting an organ, bone marrow, or tissue transplant
Principle of Cross Matching
Cross matching is based on the principle of serological detection of any clinically significant irregular/unexpected antibodies in either donor or recipient's blood. There are two types of cross matches:
Major Cross Match: It involves testing the donor's red cells with recipient's serum to determine the presence of any antibody which may cause hemolysis or agglutination of donor red cells.This is more important than minor cross match.
Minor Cross Match: It involves testing of donor's plasma with recipient's red cells to determine the presence of any antibody which may cause hemolysis or agglutination of recipient's red cells.
| Type | Donor's | Recipient's |
| --- | --- | --- |
| Minor Cross Match | Serum/Plasma | Red Cells |
Procedure of Cross Matching
There are different methods for cross matching, as shown in table. Among them most commonly used technique is Anti-human globulin (AHG) cross match.
| Method of Cross Match | Detects Antibody of Type : |
| --- | --- |
| Saline Cross Match | IgM |
| Albumin Cross Match | IgG |
| Anti-Human Globulin (AHG) Cross Match | IgG |
Minor Cross Match
Prepare donor and recipient's blood sample: Recipient's red cells and donor's serum/plasma.
Label a test tube.
Add two drops of donor's serum and one drop of recipient's cell suspension.
Mix and incubate the tubes at 37 degree Celsius for about 60 minutes.
Decant the serum completely and wash the cells three times in saline.
Add two drops of Anti-human Globulin (AHG) and mix. Allow to stand at room temperature for 5 minutes.
Centrifuge at 1500 rpm for 1 minute.
Observe macroscopically and microscopically for agglutination.
If macroscopic agglutination is not observed, transfer a small amount onto a glass slide and examine for microscopic agglutination. Rouleaux is not an indication of incompatibility.
What tests will being during Cross Match:
RSS Error: https://www.labtestsguide.com/category/blood-bank/feed is invalid XML, likely due to invalid characters. XML error: > required at line 214, column 16
---
Possible References Used
---