Liver function tests help determine the health of your liver by measuring the levels of proteins, liver enzymes, and bilirubin in your blood.

Also Known as : Liver Profile, Liver Function Tests, LFTs, Liver Panel, liver chemistries
Test Panel: Total Bilirubin, Conjagated Bilirubin, Unconjugated Bilirubin, ALT, AST, ALP, Total Protein, Albumin, Globulin, A/G ratio, GGT,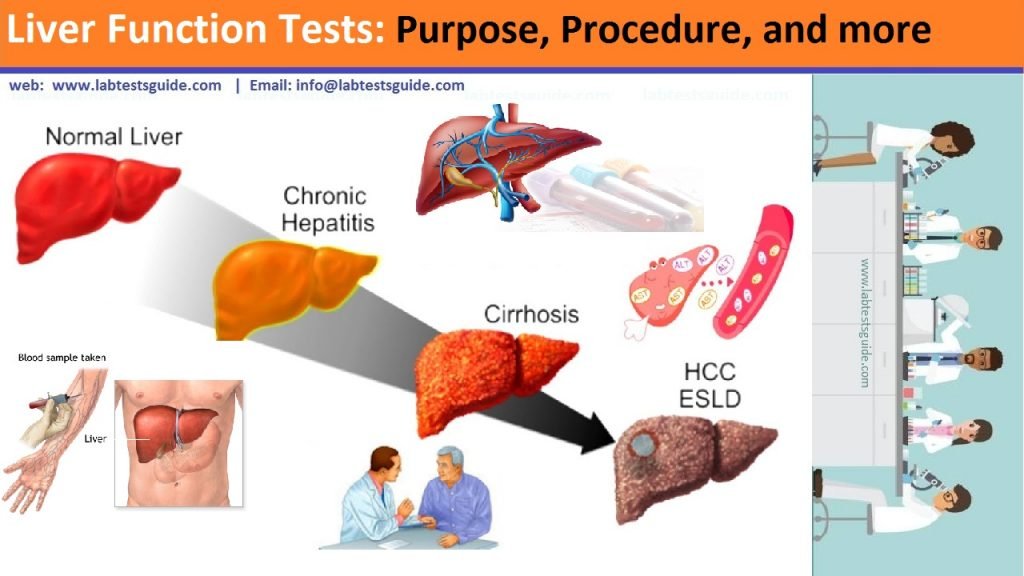 Why get Tested :
A liver function test is often recommended in the following situations:
When to Get Tested :
Sample Required :
It is done on the serum of the patient.
Heparinized plasma can be used.
A random sample can be taken.
The serum is stable for 3 days at 1 to 6 °C.
Precautions for Sample :
When LFTs Orderd :
A liver panel, or one or more of its components, may be ordered when someone is at risk for liver dysfunction. Some examples include:
A liver panel may be ordered when a person has signs and symptoms of liver disease; however, most people who have liver disease do not have any of these symptoms until the disease has been present for many years or is very severe. Some of these include:
Usually no one single set of liver tests is used to make a diagnosis. Often, several liver panels will be ordered over a few days or weeks to help determine the cause of the liver disorder and evaluate its severity
What is Being Tested :
Theses tests are tested in Liver Function Tests (LFT's) :
Normal Values
Test
Normal value
Total bilirubin
o.3 to 1.0 mg/dL
Newborn : 1.0 to 12.0 mg/dL.
Conjugated bilirubin
0.1 to 0.3 mg/dL
Unconjugated bilirubin
0.1 to 0.8 mg/dL
Alkaline phosphatase
Adult = 30 to 120 units/L
Child <2 years = 85 to 235 units/L
2 to 8 years = 65 to 210 units/L
9 to 15 years = 60 to 300 units/L
16 to 21 years = 30 to 200 units/L
SGOT (AST)
Adult = 0 to 35 units
Elderly = values slightly higher than adult
Newborn and infants = 15 to 60 units/L
SGPT (ALT)
Adult and child = 4 to 40 units/L
Infants may be twice high as the adult value
Albumin
Adult = 3.5 to 5 g/dL
Premature infants = 3 to 4.2 g/dL
Newborn = 3.5 to 5.5 g/dL
Infant = 4.4 to 5.4 g/dLChild = 4 to 5.9 g/dL
Total protein
6.4 to 8.3 g/dL
A/G ratio
0.8 to 2.0
Gamma-glutamyl transferase (γ-GT).
Adult >45 years = 8 to 38 units/L
Female <45 years = 5 to 27 units/L
Child like adult level
Newborn = 5 times higher than adult level
What does the test result mean?
| | | | | | |
| --- | --- | --- | --- | --- | --- |
| Type of liver condition or disease | Bilirubin | ALT and AST | ALP | Albumin | PT |
| Acute liver damage (due, for example, to infection, toxins or drugs, etc.) | Normal or increased usually after ALT and AST are already increased | Usually greatly increased (> 10 times); ALT is usually higher than AST | Normal or only moderately increased | Normal | Usually normal |
| Chronic forms of various liver disorders | Normal or increased | Mildly or moderately increased; ALT is persistently increased | Normal to slightly increased | Normal | Normal |
| Alcoholic Hepatitis | Normal or increased | AST is moderately increased, usually at least twice the level of ALT | Normal or moderately increased | Normal | Normal |
| Cirrhosis | May be increased but this usually occurs later in the disease | AST is usually higher than ALT but levels are usually lower than in alcoholic disease | Normal or increased | Normal or decreased | Usually prolonged |
| Bile duct obstruction, cholestasis | Normal or increased; increased in complete obstruction | Normal to moderately increased | Increased; often greater than 4 times what is normal | Usually normal but if the disease is chronic, levels may decrease | Usually normal |
| Cancer that has spread to the liver (metastasized) | Usually normal | Normal or slightly increased | Usually greatly increased | Normal | Normal |
| Cancer originating in the liver (hepatocellular carcinoma, HCC) | May be increased, especially if the disease has progressed | AST higher than ALT but levels lower than that seen in alcoholic disease | Normal or increased | Normal or decreased | Usually prolonged |
| Autoimmune | Normal or increased | Moderately increased; ALT usually higher than AST | Normal or slightly increased | Usually decreased | Normal |
Related Articles:
RSS Error: A feed could not be found at `https://www.labtestsguide.com/category/tests/feed`; the status code is `403` and content-type is `text/html; charset=UTF-8`
---
Possible References Used
---