Low-density lipoprotein (LDL cholesterol, LDL-C) is one type of lipoprotein that carries cholesterol in the blood. LDL-C consists mostly of cholesterol and similar substances with a small amount of protein. Most often, this test involves using a formula to calculate the amount of LDL-C in blood based on results of a lipid profile. Occasionally, LDL-C is measured directly.
Also Known As:  LDL, LDL-C , Low-Density Lipoprotein Cholesterol
Test Panel: Cholesterol, HDL Cholesterol, LDL Cholesterol, Triglycerides, VLDL Cholesterol, Non-High Density Lipoprotein Cholesterol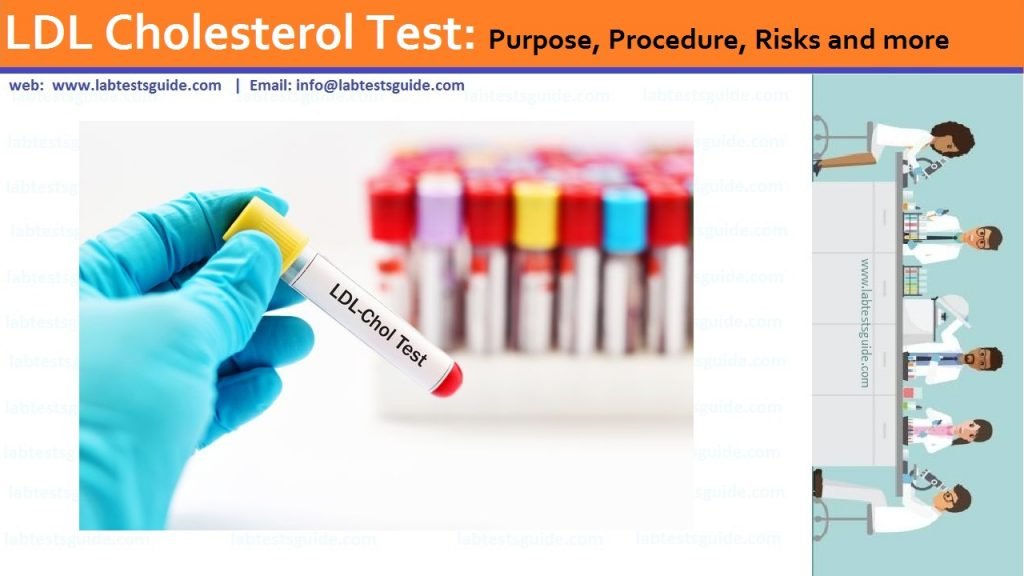 Why Get Tested :
Advised to evaluate the coronary artery disease risk.
This can be advised as the part of a lipid profile.
When to get tested :
Screening: as part of a regular health exam with a lipid profile.
when no risk factors for heart disease are present.
once every four to six years in adults.
children should have a lipid profile screening at least once between the ages of 9 and 11 and then again between the ages of 17 and 21.
Sample Required:
This test is done on the serum.
Fasting sample is preferred. Advised the patient to fast for 12 to 14 hours.
This test can be done on plasma as well.
Can store serum or plasma at 4 °C for 4 days (can keep for 5 to 7 days).
Normal Value:
Adult  =  <130 mg/dL
Children  =  <110 mg/dL
Calculation of LDL
The LDL can be calculated by the following formula:
LDL = Total cholesterol – ([triglycerides ÷ 5] – HDL)
LDL = Total cholesterol – VLDL- HDL)
LDL = Total cholesterol — (HDL cholesterol + 1/5 x Triglycerides)
NOTE: These formulas only help if the fasting triglycerides value is < 400 mg/ dl.

Increased LDL values are seen in:
Familial hyperlipidemia type 2.
Familial hypercholesterolemia.
Glycogen storage diseases.
Secondary causes are :

Hypothyroidism.
Nephrotic syndrome.
Multiple myelomas.
Dysglobulinemia.
Liver disease with obstruction.
Diabetes mellitus.
Chronic renal failure.
Diet high in cholesterol and saturated fats.
Alcohol intake.
Hepatoma.
Decreased values seen in:
Hypolipoproteinemia.
Hyperthyroidism.
Hyperlipoproteinemia type 1.
Chronic anemias.
Hepatocellular diseases.
Chronic pulmonary disease.
Reye's syndrome.
Acute stress like a burn.
Inflammatory joint disease.
Table showing the summary of characteristics of the lipoproteins
| | | | | |
| --- | --- | --- | --- | --- |
| Characteristics | Chylomicron | HDL | LDL | VLDL |
| PLasma appearance | Creamy layer, slightly turbid | Clear | Clear, or yellow-orange tint | Turbid to opaque |
| Size (diameter nm) | >70.0 | 4 to 10 | 19.6 to 22.7 | 25 to 70 |
| Electrophoretic mobility | Origin | α – region | β – region | Pre – β region |
| Molecular weight | 0.4 to 30 x 109 | 3.6 x 109 | 2.75 x 109 | 5 to 10 x 109 |
| Synthesized in (Tissue of origin) | Intestine | Intestine and liver | Intravascular | Liver and intestine |
| Composition by weight in % | | | | |
| Cholesterol esterified | 5 | 38 | 49 | 11 to 14 |
| Cholesterol unesterified | 2 | 10 | 13 | 5 to 8 |
| Triglycerides | 84 | 9 | 11 | 44 to 60 |
| Phospholipids | 7 | 22 | 27 | 20 to 23 |
| Proteins | 2 | 21 | 23 | 4 to 11 |
| Triglycerides | Markedly raised | Normal | Normal/ Raised | Moderately to Markedly raised |
| Clinical significance of | Pancreatitis and acute abdomen | Decreased risk of CAD | Increased risk of CAD | Increased risk of CAD |
| Functions | Transport dietary lipids to tissue | Carry cholesterol from tissue to liver | Carries cholesterol to tissue | Transport endogenous TG from liver to adipose tissue |
---
Possible References Used
---