Two types of infections that commonly affect these areas are urinary tract infections (UTIs) and yeast infections. These types of infections commonly occur in women, but men can get them too.
A urinalysis is a test of your urine. A urinalysis is used to detect and manage a wide range of disorders, such as urinary tract infections, kidney disease and diabetes.
A urinalysis involves checking the appearance, concentration and content of urine. Abnormal urinalysis results may point to a disease or illness.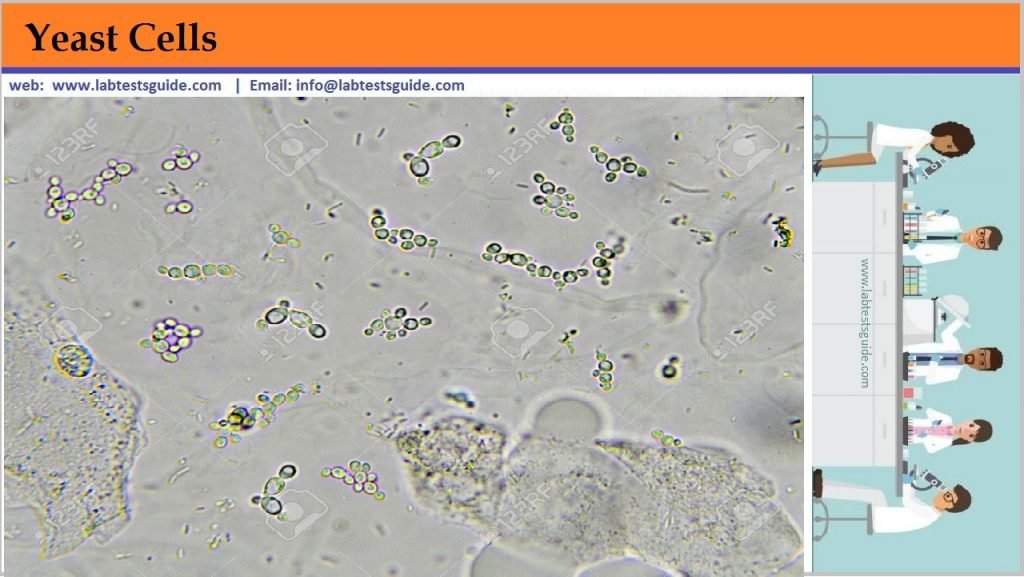 Also Known as: White Blood Cells, Pus Cells, Leukocytes
Test Panel: Physical properties, Chemical Tests, Dipstick Tests, Microscopic Examination
Type of urine samples:
Random sample:
This is a diluted urine sample and may give an inaccurate interpretation of patient health. But is best to do microscopy to evaluate WBC or RBC.
First Morning sample:
This is the best sample for microscopy and urine analysis. This is the concentrated urine because of urine remained throughout the night in the urinary bladder. This will contains an increased concentration of analytes and cellular elements. Urine must have remained in the bladder for 8 hours is considered as the first-morning sample.
Urine for sugar (Postprandial 2 hours):
Postprandial 2 hours sample collected after 2 hours of high carbohydrate diet.
Midstream clean catch urine:
This sample is needed for the culture and sensitivity of urinary infection. The patient is advised to clean the urethra, then discard the first few mL of urine. Now midstream of the urine is collected in the sterile container.
24 Hours of a urine sample

In this case, discard the first urine and note the time.
Now collect urine in the container for 24 hours and put the last sample in the container.
Refrigerate the sample.
This 24 hours samples are needed for measuring urea, creatinine, sodium, potassium, glucose, and catecholamines.

Suprapubic collection of the urine sample:
This is done in the patients who cannot be catheterized and the sample is needed for culture. This sample is collected by the needle.
Catheter collection of urine:
This is done by patients who are bedridden and can not urinate.
Pediatric urine sample:
In infants, special collection bags are made adherent around the urethra. Then urine is transferred to a container.
Urine Yeast:
If you experience discomfort in your genital area or when you urinate, you may have an infection. Two types of infections that commonly affect these areas are urinary tract infections (UTIs) and yeast infections. These types of infections commonly occur in women, but men can get them too. While both are distinct conditions, some of their symptoms, causes, and prevention methods are similar. Both should be seen by a doctor for treatment, and both are curable.
Symptoms:
Urinary and yeast infections are different infections. Your symptoms may be in the same general area, but they are different.
UTI symptoms usually affect urination. They may cause a burning sensation when urinating, or you may feel the need to urinate more frequently. Symptoms of yeast infection may include painful urination, but you will also experience pain and itching in the affected area. Vaginal yeast infections also usually cause a thick and milky discharge.
Symptoms of UTI
Symptoms of yeast infection
pain and burning when urinating
pain when urinating or having sex
feeling the need to urinate more often than usual, even when you don't actually have to relieve yourself
itchiness in the affected area (such as your vagina and vulva)
awakening from sleep to go to the bathroom
swelling in the affected area (for a vaginal yeast infection, that would be in the vagina and vulva)
discolored or cloudy urine that may be red or pink from blood
pain in the affected area
foul-smelling urine
having unusual, generally odorless, vaginal discharge that is thick and milky looking (for vaginal yeast infections)
fever or chills, vomiting, or nausea, which may all be signs of a more serious infection
pain or feeling of pressure in your lower abdomen, back, and sides
pain in your pelvis, especially if you're a woman
Causes:
UTIs occur when you get bacteria into your urinary system. Your urinary system includes your:
kidneys
ureters
bladder
urethra
You don't need to be sexually active to experience a UTI. Some things that can cause bacteria to build up in your urethra and lead to a UTI include:
contact with stool, which contains bacteria, such as E. Coli
sex
exposure to STIs
the use of spermicides and diaphragms during sex
not emptying your bladder regularly or putting off urinating frequently
Risck Factors:
You may also be more at risk for a UTI if you:
are sexually active
are currently using or have used antibiotics recently
are obese
have gone through menopause
have given birth to multiple children
have diabetes
have or have had a kidney stone or another blockage in your urinary tract
have a weakened immune system
Most common yeast is candida in the urine.
This may be vaginal contamination due to vaginal infection.
These are also seen in patients with diabetes. Because sugar is used as a source of energy for the growth of yeast.
These are also seen in immunocompromised patients.
These are strongly gram positive.
Wright's stain differentiates yeast from the RBCs.
Related Articles:
It describes how a bacterial sputum culture is used, when a bacterial sputum culture is […]

Pleural Fluid for AFB testing may be used to detect several different types of acid-fast […]

CSF for AFB testing may be used to detect several different types of acid-fast bacilli, […]

Bronchial Washing for AFB testing may be used to detect several different types of acid-fast […]

Sputum AFB testing may be used to detect several different types of acid-fast bacilli, but […]

An acid-fast bacteria (AFB) culture is done to find out if you have tuberculosis (TB) […]

An acid-fast bacteria (AFB) culture is done to find out if you have tuberculosis (TB) […]

An acid-fast bacteria (AFB) culture is done to find out if you have tuberculosis (TB) […]