Tulane University's breakthrough blood test, detecting HIV and tuberculosis simultaneously, offers a game-changing approach to diagnostics. This innovation holds immense potential to revolutionize disease detection, especially for vulnerable populations, promising quicker, more accessible, and effective healthcare solutions. As it progresses towards FDA approval, this test stands as a beacon of hope in the fight against HIV and TB co-infections worldwide.
In a groundbreaking advancement in medical diagnostics, researchers at Tulane University have pioneered a rapid blood test capable of detecting both HIV and tuberculosis (TB) concurrently, utilizing just a small blood sample.
Published in the esteemed journal Clinical Chemistry, the research spearheaded by Tony Hu, Weatherhead Presidential Chair in Biotechnology Innovation and director of the Center for Cellular and Molecular Diagnostics at Tulane University School of Medicine, unveils a blood-based test proficient in identifying these two diseases while gauging their viral and bacterial loads within patients.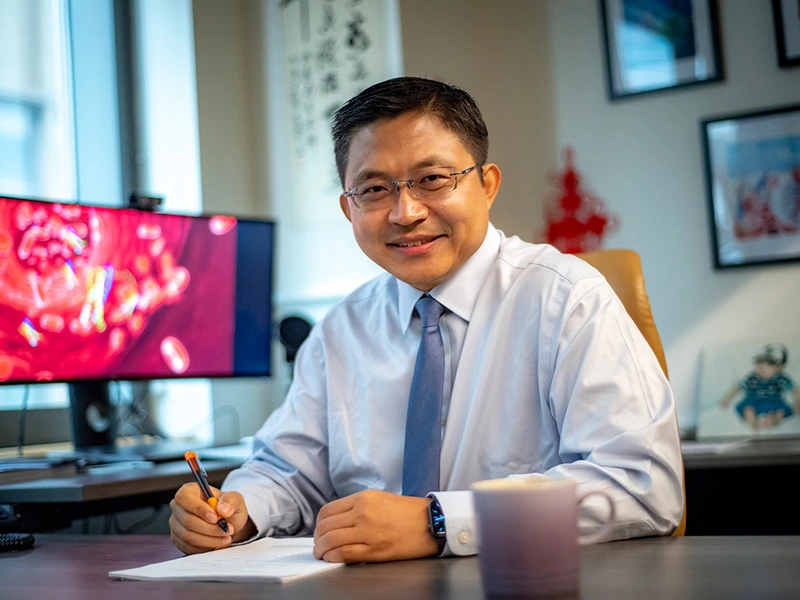 The intersection of HIV and TB, often coexisting as coinfections, poses a considerable health challenge. HIV compromises the immune system, elevating the susceptibility to contracting infections like TB. Notably, individuals with HIV face the highest risk of TB contraction.
Hu emphasizes the pressing need for a blood-based TB test among HIV patients, highlighting the compromised immune response that hampers traditional sputum-based testing methods, which are impractical for HIV patients due to their weakened immune systems.
This novel blood-based approach sidesteps the reliance on sputum, offering a viable testing alternative for HIV-positive individuals to screen for TB, requiring a mere 200 microliters of blood, equivalent to a few drops. Moreover, by amalgamating these tests, significant cost and time savings are achieved, as elucidated by Hu.
The test operates by pinpointing HIV and TB antigens in the blood, employing mass spectrometry for the detection of viral and bacterial loads. A pivotal aspect of this innovation lies in its capability to monitor HIV and TB levels during the treatment phase, facilitating prompt intervention if a specific treatment regimen proves ineffective.
Hu underscores the challenge in treating both diseases simultaneously, elucidating the phenomenon of immune reconstitution inflammatory syndrome (IRIS), where treating one condition may inadvertently exacerbate the other. The test's rapidity enables early identification of IRIS, empowering physicians to swiftly modify treatment plans, ultimately enhancing patient outcomes.
While the prevalence of TB in the United States might not be substantial, the dire necessity for such tests persists in developing nations where TB prevails, often hindering accessibility to essential diagnostic tools. Hu is optimistic about transitioning from this promising pilot study to imminent clinical trials, with the goal of securing FDA approval for these transformative tests.
The development of this innovative blood-based test marks a significant stride in diagnostic technology, promising improved healthcare delivery, particularly for vulnerable populations grappling with HIV and TB coinfections globally.
References:
---
Possible References Used
---