Cholinesterases are enzymes that help regulate the normal functioning of the nervous system. They break down a neurotransmitter called acetylcholine so that it does not cause over-stimulation of muscles. However, certain chemicals such as pesticides – if they find a way into our body – can interfere with the functioning of cholinesterase, leading to breathing difficulty, and muscle weakness.
Also Known as
CHS, AChE, RBC Cholinesterase, Red Cell Cholinesterase, BChE, Plasma Cholinesterase, Pseudocholinesterase, PCHE, Erythrocyte Acetylcholinesterase, Butyrylcholinesterase, Cholinesterase
Test Purpose
Monitoring exposure to cholinesterase inhibitors
As a liver function test
Diagnosis of genetic variants
Test Preparations
No Special Preparation Required
Test Components
Cholinesterase, Serum
Specimen
2 ML (0.5 ML Min.) Serum From 1 SST
Stability Room
8 Hrs
Stability Refrigerated
1 Week
Stability Frozen
2 Weeks
Method
Spectrophotometry
Download Report
Download Report
Looking for the meaning of Cholinesterase Test, or its results or why is Cholinesterase Test done, or what is the cost of Cholinesterase Test? Look no further, as this article provides all this information about Cholinesterase Test including normal range, online booking and more.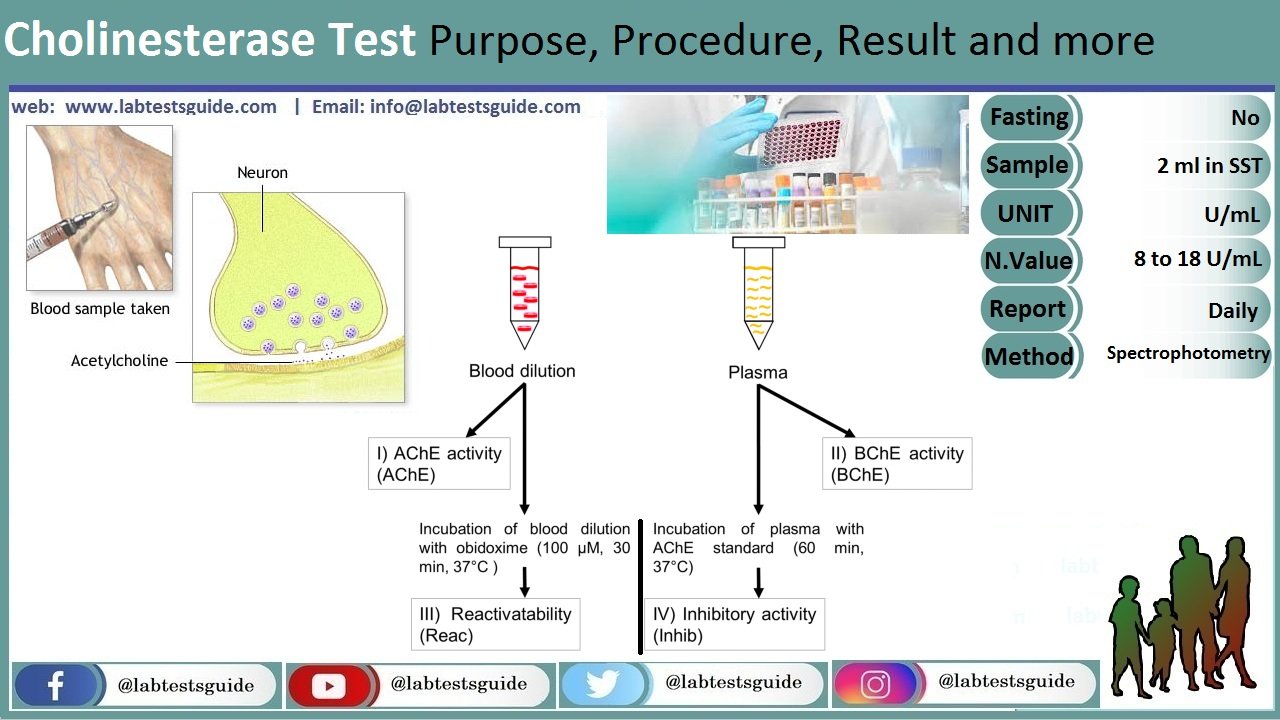 Why get tested:
To determine if you have been exposed and / or poisoned by certain organophosphate chemicals found in pesticides; to control cholinesterase levels if you work with pesticides
Sometimes to identify people with inherited pseudocholinesterase deficiency before they are given anesthesia with the muscle relaxant succinylcholine or to help determine the cause of prolonged apnea after surgical anesthesia.
When to get tested:
When you have symptoms of pesticide poisoning or on a regular basis when you are at risk of exposure to organophosphates, such as through work in the agricultural industry and / or frequent use of organophosphate insecticides.
When you or a close relative have experienced prolonged apnea and muscle paralysis after using the drug succinylcholine for a surgical operation.
Sample and Precautions:
Specimen: 2 ML (0.5 ML Min.) Serum From 1 SST.
Preparations: No Special Preparation Required.
Precautions:
Avoid hemolysis.
Avoid repeated freezing and thawing.
Pregnancy decreases test value.
Drugs that may cause a decrease in the test value is atropine, caffeine, codeine, morphine, oral contraceptives, theophylline, quinidine, estrogen, and vitamin K.
Normal Values:
Source 1:
Serum cholinesterase = 8 to 18 units/mL
Source 1
Male: 4.62 – 11.50 ku/L
Female: 3.93 – 10.80 lu/L
Source 2
Normal Values: 1355 – 3299 IU/L
Source 4:
Male:
1 day to 5 years: Not established
6 to 17 years: 1396−3282 U/L
18 to 70 years: 1801−3537 U/L
71 years and older: 903−2964 U/L
Female:
1 day to 1 year: Not established
2 to 12 years: 1649−2940 U/L
13 to 50 years: 1247−2978 U/L
51 to 80 years: 1355−3299 U/L
81 years and older: Not established
Increased level is seen in:
Nephrosis.
Diabetes mellitus.
Hyperlipidemia
Decreased Level is seen in:
poisoning with organophosphate insecticide.
Liver diseases like hepatitis.
Cirrhosis with ascites or jaundice.
Metastatic carcinoma.
Obstructive jaundice.
Congestive heart failure.
Before you receive anesthesia with succinylcholine, which may be given before certain procedures or treatments, including electroconvulsive therapy (ECT).
In the condition with low serum albumins like malnutrition, anemia, infections, Dermatomyositis, Acute MI, and liver diseases.
Keywords: Agents, Anticholinesterase, Anticholinesterase Agents, Cholinesterase Inhibitors, Inhibitors, Cholinesterase, cholinesterase inhibitor, Anti Cholinesterases, Anti-Cholinesterases, Anticholinesterases, Anticholinesterase Drugs, Drugs, Anticholinesterase, Anticholinest. parasympath., CHOLINESTERASE INHIB, anticholinesterase agents (medication), anticholinesterase agents, Cholinesterase Inhibitor, anticholinesterases, anticholinesterase, anti cholinesterase, cholinesterase inhibitors, Anticholinesterase parasympathomimetics, Cholinesterase inhibitors, Anticholinesterase, Anticholinesterase parasympathomimetic, Cholinesterase inhibitor drug, Anticholinesterase agent (substance), Anticholinesterase agent, Anticholinesterase drug (product), Anticholinesterase drug, Anticholinesterase drug, NOS, Anticholinesterase drug (substance), CHS, AChE, RBC Cholinesterase, Red Cell Cholinesterase, BChE, Plasma Cholinesterase, Pseudocholinesterase, PCHE, Erythrocyte Acetylcholinesterase, Butyrylcholinesterase, Cholinesterase
---
Possible References Used
---