AFB testing may be used to detect several different types of acid-fast bacilli, but it is most commonly used to identify an active tuberculosis (TB) infection caused by the most medically important AFB, Mycobacterium tuberculosis.
Pleural fluid is a fluid that is found between the layers of the pleura. The pleura is a two-layered membrane that covers the lungs and lines the chest cavity. The area that contains pleural fluid is known as the pleural space. Normally, there is a small amount of pleural fluid in the pleural space.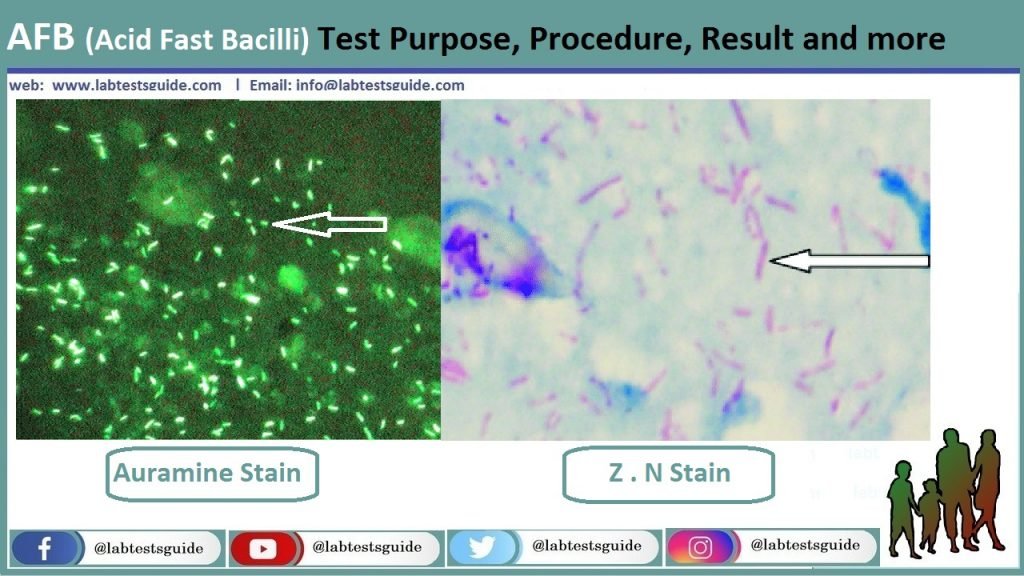 Why to Get Tested:
To help diagnose tuberculosis (TB) and infections caused by other Mycobacterium species, which are known as acid-fast bacilli (AFB), in people at risk of developing mycobacterial infections; to monitor the effectiveness of treatment
When to get Tested:
When you have signs and symptoms of a lung infection, such as a chronic cough, weight loss, fever, chills, and weakness, that may be due to TB or a nontuberculous mycobacterial (NTM) infection
When you have a positive IGRA blood test or Tuberculin skin test (TST) and you are in a high-risk group for progressing to active TB
When you have a skin or other body site infection that may be due to mycobacteria; when you are undergoing treatment for TB
Purpose Of The Test (Indications)
This is a special stain for the diagnosis of Mycobacterium tuberculosis in various specimens like sputum, caseous material, and tissue.
The AFB smear stain used to monitor the treatment of Tuberculosis.
The AFB stain on sputum is indicated in a patient with:

A cough.
Night sweating.
Anorexia.
Fever.
Hemoptysis.
Unexplained weight loss.
Fatigue and weakness.
Chest pain.

Advise AFB stain in high-risk patients like immunocompromised patients, alcoholics, or have recent exposure to TB patients.
Specimen Collection and Instructions
Specimen Type: Pleural, Pericardial, Peritoneal, Spinal Fluid, Other Body Fluids
Container/Tube: Sterile container
Collection Instructions: Indicate source. Label with 2 patient identifiers.
Large volumes are required for optimal processing and results.
Up to 100 mL will be concentrated by centrifugation for media inoculation. Sterile collection containers must be used.
Transport Temperature: Ambient for spinal fluid, refrigerated for all other body fluids.
Test Procedure:
There are 2 Most common Procedure to Examin the Sputum smears.
Results
Positive Result is:
The acid-fast bacilli are red color rods and the background is blue.
When these Rods are seen indicate active tuberculosis.
Positive AFB stain may be confirmed by the culture.
The Negative Result Is:
A negative result means that:
There is no infection.
The number of bacteria was not in sufficient amount to be seen under the microscope.
Symptoms may be due to some other cause.
Reporting Of The AFB Stain.
| | |
| --- | --- |
| Presence of AF bacilli | Positivity report |
| When rarely seen | 1+ Rare |
| When few bacilli were seen | 2+ Few |
| When the moderate number of bacilli are seen | 3+ Moderate |
| When many bacilli are seen | 4+ Many |
| Negative | When no bacilli found |
Related Articles:
RSS Error: A feed could not be found at `https://www.labtestsguide.com/category/microbiology/feed`; the status code is `403` and content-type is `text/html; charset=UTF-8`
Keywords: acid fast staining,acid fast bacteria,acid fast,acid fast bacilli,acid fast bacilli stain,acid fast bacilli test procedure,acid fast bacilli staining,how to test acid fast bacilli,acid fast stain,acid fast staining procedure,sputam for acid fast bacilli positive,sputum for afb (acid fast bacilli),acid fast bacteria.,acid fast test,acid fast staining microbiology,mycolic acid,acid fast staining technique,acid-fast bacillus,non-acid fast bacteria,ziehl neelsen (acid fast) staining procedure, culture,afb culture,cuban culture,culture media,counter culture,afb culture test,extreme culture,afb culture in hindi,la culture de fraise et de raisin à gagia,adventure,sec-feature,test results,afb test result,urban adventure,figure 1,hiv cure,redbull,ultra hd,mtb nature trails,a cultural ride through cuba,ultimate,an turas mor,tuberculosis,redbull india,turbo trainer,ultimate fixie,sputum afb procedure in hindi,arunachal tourism,dura,gore,shred,repack,tuberculosis symptoms,#kullu,satire
---
Possible References Used
---