This test measures the amount of bicarbonate, a form of carbon dioxide, in your blood. Bicarbonate, also known as HCO3, is a byproduct of your body's metabolism. Your blood brings bicarbonate to your lungs, and then it is exhaled as carbon dioxide. Your kidneys also help regulate bicarbonate.
level is the metabolic component of the ABG. It is a measurement of the bicarbonate content of the blood and is affected by renal production of bicarbonate. A lower HCO3 – level indicates acidosis while a higher HCO3 – level indicates alkalosis.
| | |
| --- | --- |
| Test Name | BLOOD GAS ANALYSIS, ARTERIAL |
| Test Purpose | A blood gas test measures the amount of oxygen and carbon dioxide in the blood. |
| Test Preparations | No Preparation Needed |
| Test Components | pH, PCO2, Bicarbonate (HCO3), Total CO2 Contents (TCO2), Standard Bicarbonate (SBC), Base Excess, PO2, Oxygen saturation capacity, Base Excess – Extracellular fluid, Hemoglobin |
| Specimen | 2 mL arterial blood in a preheparinised (1000 IU/mL) disposable syringe and needle. Avoid air bubbles. Mix gently 10 times. Seal needle with rubber stopper. Sample to be drawn by referring doctor. Ship refrigerated. DO NOT FREEZE. Outstation samples not accepted. |
| Stability Room | 2 hrs |
| Stability Refrigerated | 24 hrs |
| Stability Frozen | NA |
| Method | ISE, Amperometry, Reflectance photometry |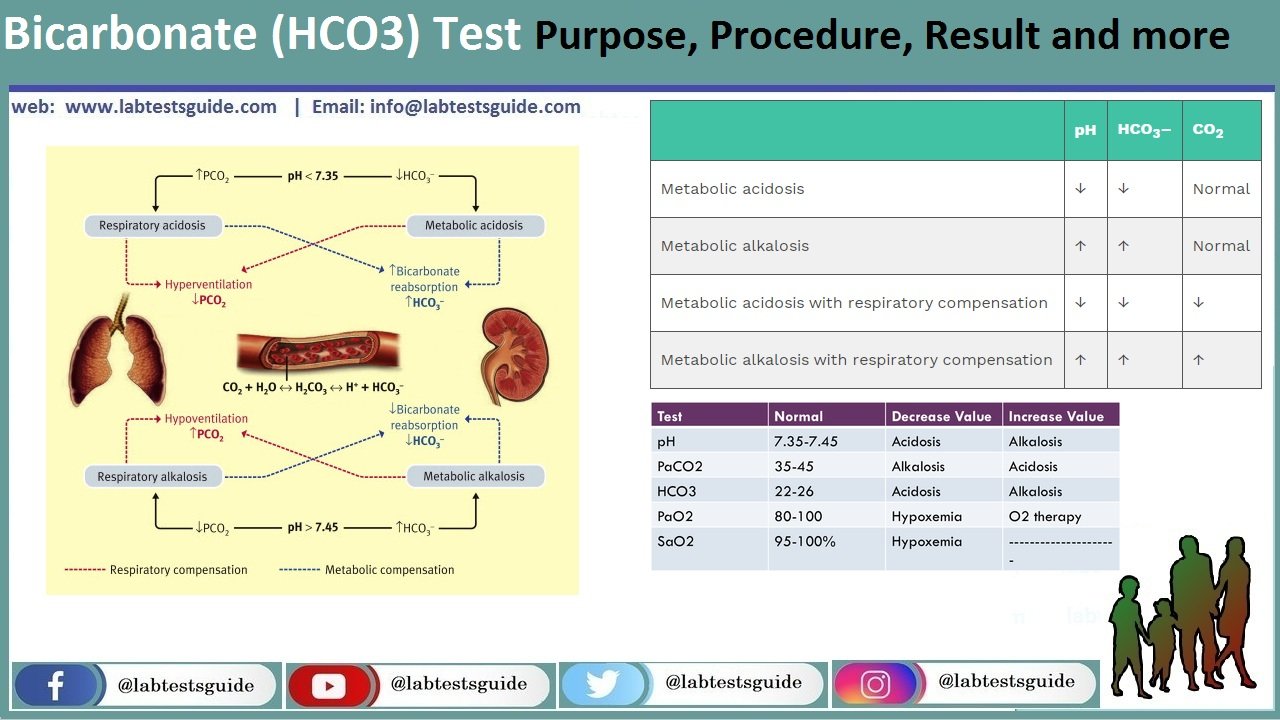 Also Known as: Arterial Blood Gases, ABGs, Arterial Blood Gas Analysis, Blood Gases
Why get tested :
Assess lung function by measuring blood pH, oxygen (O2), and carbon dioxide (CO2).
to monitor the treatment of lung diseases
to detect an acid-base imbalance in the blood, which may indicate a respiratory, metabolic, or kidney disorder
to evaluate the effectiveness of oxygen therapy
When to get tested:
When you have symptoms of a breathing problem such as shortness of breath, shortness of breath, or rapid breathing; when you are being treated for a lung disease
when an acid-base imbalance is suspected
Periodically when you have a condition causing acute or chronic oxygen shortage and are on oxygen therapy
During certain surgeries to check the levels of O2 and CO2 in your blood
pO2 Normal Values
Adult / child = 21 to 28 mEq/L
Newborn / infants =16 to 24 mEq/L
In the test measures:
HCO3–
HCO3– is high in respiratory acidosis.
HCO3– low in metabolic acidosis.
HCO3– is low in respiratory alkalosis.
HCO3– is high in metabolic alkalosis.
Normal Values:
| TEST | UNIT | NORMAL VALUES |
| --- | --- | --- |
| pH | | 7.35 – 7.45 |
| PCO2 | mmHg | 35.00 – 45.00 |
| Bicarbonate (HCO3) | mEq/L | 21.00 – 28.00 |
| Total CO2 Contents (TCO2) | mmol/L | 23.00 – 27.00 |
| Standard Bicarbonate (SBC) | mEq/L | 22.00 – 26.00 |
| Base Excess | mEq/L | -2.00 – 3.00 |
| PO2 | mmHg | 83.00 – 108.00 |
| Oxygen saturation capacity | % | 95.00 – 98.00 |
| Base Excess – Extracellular fluid | mEq/L | <0.02 |
| Hemoglobin | g/dL | 13.00 – 18.00 |
Related Articles:
The Indirect Antiglobulin Test looks for antibodies that are floating around in the blood. These […]

The indirect Antiglobulin (IAT test) looks for antibodies that are floating around in the blood. […]

The Indirect Anti-human Globulin Test looks for antibodies that are floating around in the blood. […]

The indirect Coombs test looks for antibodies that are floating around in the blood. These […]

he Direct Anti-human Globulin Test is used to detect antibodies that add here to the […]

The DAT Test (Direct Antiglobulin Test) is used to detect antibodies that add here to […]

The Direct Antiglobulin test is used to detect antibodies that add here to the surface […]

The Anti Human Globulin Test checks your blood for antibodies that attack red blood cells. […]
Keywords: Analyses, Blood Gas, Analysis, Blood Gas, Blood Gas Analyses, Blood Gas Analysis, Gas Analyses, Blood, Gas Analysis, Blood, Blood gases NOS, BLOOD GAS ANAL, ANAL BLOOD GAS, blood gas analyses (lab test), blood gas analyses, analyse blood gas, Test;blood gas analysis, blood gases, analysis blood gas, blood gas measurement, blood gase, blood gas measurements, Blood gases measurement, Analysis of blood gases, Blood gases NOS (procedure), Gases – blood, Blood gas studies, Blood gases–Analysis, Blood gases, Blood gas analysis, Blood gas levels, BGA – Blood gas analysis, BG – Blood gases, Blood gas analysis (procedure), Blood gas measurement (procedure), Blood gas measurement, blood gas analysis