The catalase test is used to differentiate staphylococci (catalase-positive) from streptococci (catalase-negative). The enzyme, catalase, is produced by bacteria that respire using oxygen, and protects them from the toxic by-products of oxygen metabolism. Catalase-positive bacteria include strict aerobes as well as facultative anaerobes, although they all have the ability to respire using oxygen as a terminal electron acceptor. Catalase-negative bacteria may be anaerobes, or they may be facultative anaerobes that only ferment and do not respire using oxygen as a terminal electron acceptor (ie. Streptococci).
Procedure (Slide Method):
Transfer a small amount of bacterial colony to a surface of clean, dry glass slide using a loop or sterile wooden stick
Place a drop of 3% H2O2 on to the slide and mix.
A positive result is the rapid evolution of oxygen (within 5-10 sec.) as evidenced by bubbling.
A negative result is no bubbles or only a few scattered bubbles.*
Dispose of your slide in the biohazard glass disposal container.
Procedure (Tube Method):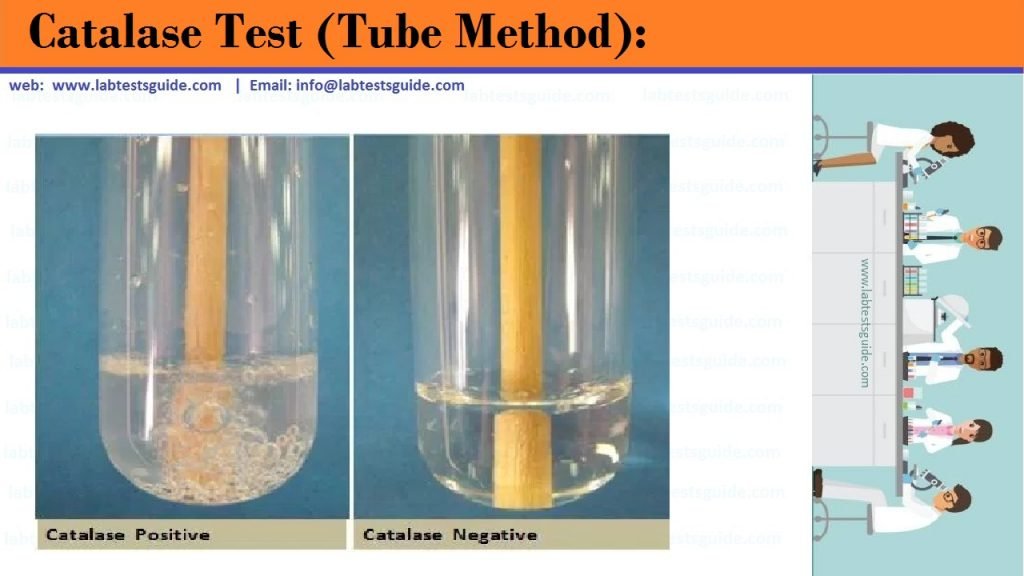 Add 4 to 5 drops of 3% H2O2 to in a test tube
Using a wooden applicator stick, collect a small amount of organism from a well-isolated 18- to 24-hour colony and place into the test tube (Note: Be careful not to pick up any agar (especially if using Blood Agar).- Explanation in precaution below)
Place the tube against a dark background and observe for immediate bubble formation (O2 + water = bubbles) at the end of the wooden applicator stick.
Catalase Test Results:
Catalase positive reaction: Evident by immediate effervescence (bubble formation)
Catalase negative reaction: No bubble formation (no catalase enzyme to hydrolyze the hydrogen peroxide)
Uses of Catalase Test Results:
The catalase test is primarily used to distinguish among Gram-positive cocci: members of the genus Staphylococcus are catalase-positive, and members of the genera Streptococcus and Enterococcus are catalase-negative.
Catalase test is used to differentiate aerotolerant strains of Clostridium, which are catalase negative, from Bacillus species, which are positive.
Semiquantitative catalase test is used for the identification of Mycobacterium tuberculosis.
Catalase test can be used as an aid to the identification of Enterobacteriaceae. Members of Enterobacteriaceae family are catalase positive.
---
Possible References Used
---