Anti-Jo-1 antibody is a myositis specific autoantibody most commonly found in patients with idiopathic inflammatory myopathies (IIM). This antibody is directed against the histidyl-tRNA synthetase which catalyses the binding of the histidine to its cognate tRNA during protein synthesis.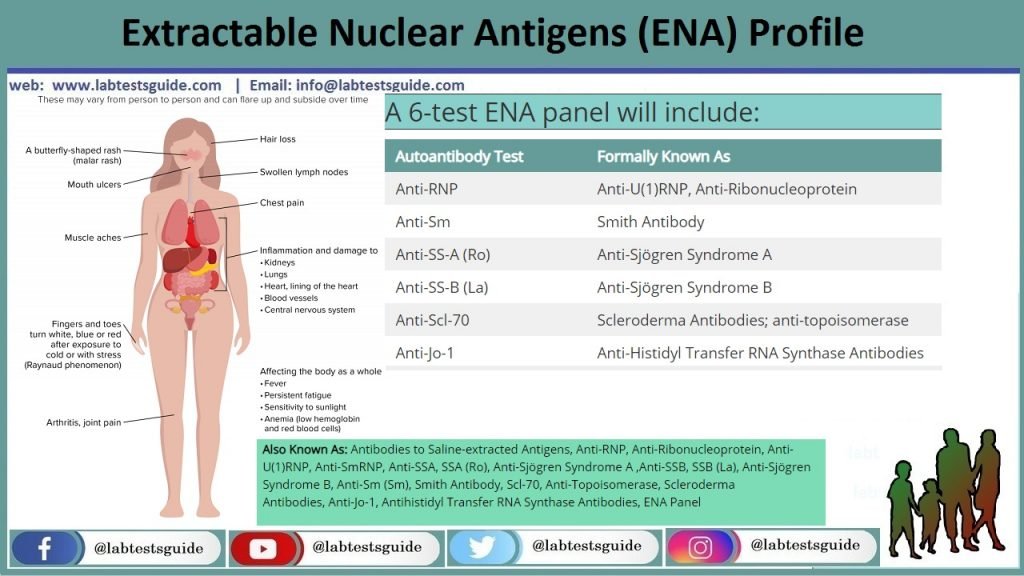 Extractable Nuclear Antigens (ENAs) they are more than 100 different soluble nuclear and cytoplasmic antigens. They are known as "extractable" because they can be removed from cell nuclei using saline and represent six main proteins: Ro, La, Sm, RNP, Scl-70, Jo1. Most ENAs are part of spliceosome or nucleosome complexes and are a type of small nuclear ribonucleoprotein (snRNPS). The location in the nucleus and association with spiceosomes or nucleosomes results in these ENAs associating with additional RNA and proteins, such as polymerases. This quality of ENAs often makes it difficult to purify and quantify their presence for clinical use.
Also Known As: Antibodies to Saline-extracted Antigens, Anti-RNP, Anti-Ribonucleoprotein, Anti-U(1)RNP, Anti-SmRNP, Anti-SSA, SSA (Ro), Anti-Sjögren Syndrome A ,Anti-SSB, SSB (La), Anti-Sjögren Syndrome B, Anti-Sm (Sm), Smith Antibody, Scl-70, Anti-Topoisomerase, Scleroderma Antibodies, Anti-Jo-1, Antihistidyl Transfer RNA Synthase Antibodies, ENA Panel
Why get tested?
To help diagnose and distinguish between autoimmune disorders, as well as to monitor the progression of autoimmune disease.
When Tested?
When your antinuclear antibody (ANA) test is positive and you have symptoms that suggest an autoimmune disorder
When monitoring the activity of an autoimmune disorder
Sample:
A blood sample drawn from a vein in your arm
3 mL Sample in Plain or Yellow Cap Tube
Test Preparations:
No Need any Preparations for This Test
A 4-test ENA panel will include:
A 6-test ENA panel will include:
When this Test Ordered
An ENA panel is ordered when a person has signs and symptoms that could be due to an autoimmune disorder and has a positive ANA test. The signs and symptoms of autoimmune disorders are highly variable and can affect many different areas of the body. They may include:
Fever and persistent fatigue
Muscle pain
Joint swelling and/or pain
Skin rash
Hair loss or loss of scalp hair
Sensitivity to ultraviolet light
Raynaud phenomenon
Protein in the urine (proteinuria)
Neurologic symptoms such as seizures, depression, psychoses
Hemolytic anemia (low red blood cell count) or leukopenia (low white blood cell count)
| Autoantibody Test | Results That Support an Autoimmune Disorder Diagnosis |
| --- | --- |
| Anti-RNP | Positive result seen in 95-100% of mixed connective tissue disease (MCTD) cases; may also be positive with lupus and scleroderma |
| Anti-Sm | Positive result seen in 30% of those with lupus; very specific antibody marker for this disease |
| Anti-SS-A (Ro) | Positive result seen in 75% of those with Sjögren syndrome; may also be positive with lupus and scleroderma |
| Anti-SS-B (La) | Positive result seen in 60% of those with Sjögren syndrome; may also be positive with lupus and scleroderma; rarely present without anti-SS-A |
| Anti-Scl-70 | Positive result seen in 60% of those with scleroderma; highly specific antibody marker for this disease |
| Anti-Jo-1 | Positive result seen in 30% of those with polymyositis; may be positive with pulmonary fibrosis |
---
Possible References Used
---