Medical symptoms are complaints that indicate illness. They are noticed by the patient and cause people to go see a health professional. It is rare for a person to visit a doctor and complain as follows: "Doctor, I have amaurosis fugax." They are more likely to complain of vision loss. This list is not exhaustive, but may be useful as a guide.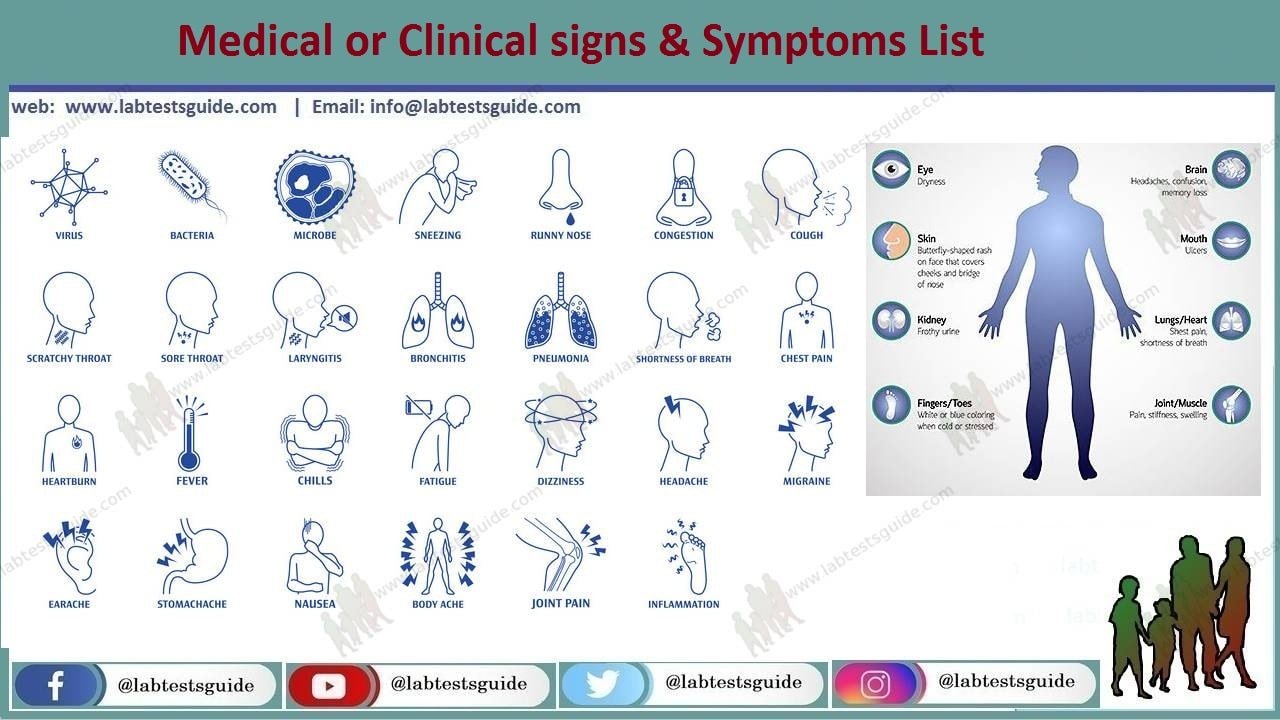 A
Abdominal pain
Abnormal liver enzymes
Anal pain
B
Back pain
Bent penis
Bleeding after vaginal sex
Bleeding during pregnancy
Blood clots
Blood in semen
Brain lesions
Breast calcifications
Breast lumps
Breast rash
Burning feet
C
D
Dark circles under eyes
Diarrhea
Dizziness
E
Elbow pain
Elevated liver enzymes
Eosinophilia
Epiphora
Erythrocytosis
Excess tearing
Excessive sweating
Exhaustion
Eye pain
Eye twitching
F
Fatigue
Flatulence
Foot pain
Frequent bowel movements
Frequent urination
G
H
Hand numbness
Headache
Heel pain
Hemoglobin count, high
Hemoglobin count, low
High blood protein
High eosinophils
High hemoglobin count
High liver enzymes
High lymphocyte count
High potassium (hyperkalemia)
High red blood cell count
High uric acid level
High white blood cell count
Hip pain
Hyperhidrosis
Hyperkalemia (high potassium)
Hyperuricemia
Hypoxemia
I
J
K
L
Lassitude
Leg pain
Leg swelling
Lethargy
Leukocytosis
Leukopenia
Loss of feeling
Loss of smell
Low blood oxygen
Low hemoglobin count
Low neutrophil count
Low potassium
Low potassium (hypokalemia)
Low white blood cell count
Lymphocytosis
M
N
Nasal congestion
Nausea and vomiting
Neck pain
Neutropenia
Night leg cramps
Night sweats
Nipple discharge
Nose, runny
Nose, stuffy
Nosebleeds
Numbness
Numbness in hands
O
P
Pain, abdominal
Pain, anal
Pain, ankle
Pain, arm
Pain, back
Pain, elbow
Pain, eye
Pain, foot
Pain, groin
Pain, heel
Pain, hip
Pain, joint
Pain, kidney
Pain, knee
Pain, leg
Pain, muscle
Pain, neck
Pain, pelvic
Pain, shoulder
Pain, testicle
Painful urination (dysuria)
Peeling skin
Pelvic pain
Peripheral edema
Petechiae
Protein in urine (proteinuria)
Proteinuria
Q
R
Rectal bleeding
Red blood cell count, high
Red eye
S
Sensation loss
Shortness of breath
Shoulder pain
Stuffy nose
Sweating, excessive
Swelling of the legs
T
U
Under-eye circles
Unexplained weight loss
Uric acid level, high
Urine odor
V
Vaginal bleeding
Vaginal bleeding after sex
Vaginal discharge
Vaginal dryness
Vaginal odor
Vomiting blood
W
Watery eyes
Weariness
Weight loss, unexplained
Wheezing
White blood cell count, high
White blood cell count, low
White tongue
X
Y
Z
0 – 9
An error has occurred, which probably means the feed is down. Try again later.
#Medical_Symptoms #Clinical_symploms #Signs_&_symptoms
---
Possible References Used
---