The ovary is a ductless reproductive gland in which female reproductive cells are produced. Females have a pair of ovaries, supported by a membrane next to the uterus on each side of the lower abdomen. The ovary is necessary in reproduction, as it is responsible for producing the female reproductive cells or eggs.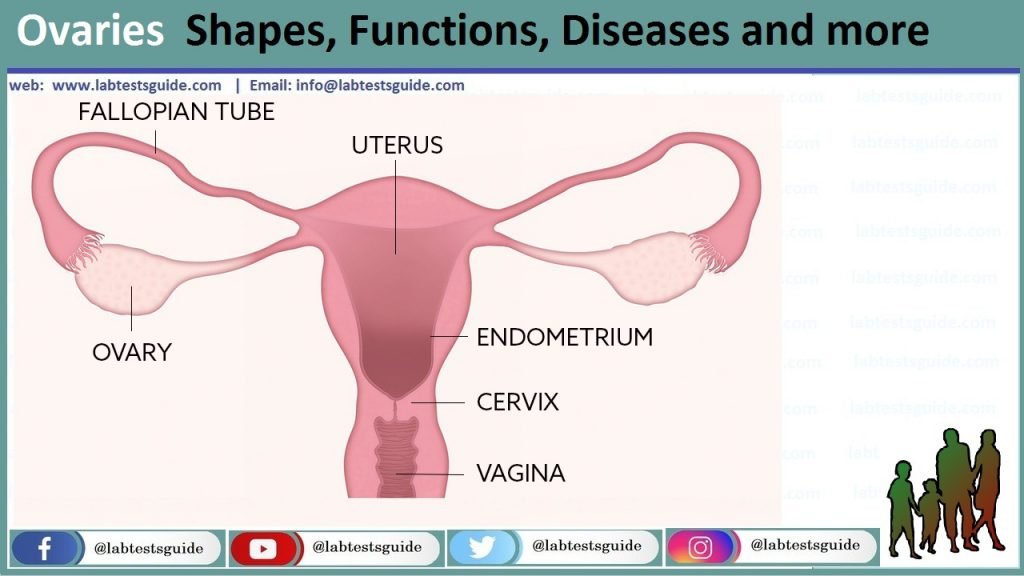 Ovarian Essentials:
Shapes and Structures:
The ovaries are oval shaped and about the size of a large grape. They are located on opposite ends of the pelvic wall, on either side of the uterus. The ovaries are each attached to the fimbria (tissue that connects the ovaries to the fallopian tube).
Fuctions:
The ovaries have three functions. First, they shelter and protect the eggs a female is born with until they are ready for use. It is thought that women are born with their lifetime supply of eggs, but a study by the University of Edinburgh's School of Biological Sciences found that chemotherapy might spark the development of new eggs.
To produce oocytes (female gametes) in preparation for fertilisation.
To produce the sex steroid hormones oestrogen and progesterone, in response to pituitary gonadotrophins (LH and FSH).
Diseases and Disorders of the Ovaries:
Related Content
RSS Error: https://www.labtestsguide.com/category/parts-of-body/rss is invalid XML, likely due to invalid characters. XML error: > required at line 288, column 16
Keywords:
Disease, Ovarian, Diseases, Ovarian, Ovarian Diseases, OVARIAN DISORDER, ovary disorder, OVARIAN DIS, Disease of ovary, ovarian disorders, ovarian disorders (diagnosis), Disorder ovarian, Ovarian disorder NOS, Ovarian Diseases [Disease/Finding], ovary disorders, disease ovarian, ovarian diseases, ovary disease, ovary diseases, diseases ovary, disease of ovary, disease ovaries, disorder ovaries, ovarian disease, disorders ovaries, disorders ovary, disease ovary, diseases ovaries, Ovarian Disorders, Ovaries–Diseases, Ovarian disorder, disease (or disorder); ovary, Disease of ovary, NOS, Ovarian disorder, NOS, Disorder of ovary, Disease of ovary (disorder), Disorder of ovary (disorder), Ovary Disorders, Ovarian Disease, Ovarian Disorder, ovarian disorder
---
Possible References Used
---