Kidney function tests are simple blood and urine tests that can help identify problems with your kidneys. Your kidneys filter waste from your blood. Your doctor can monitor your kidneys and check for problems by requesting kidney function tests. We explain the types of tests, what to expect from each, and more.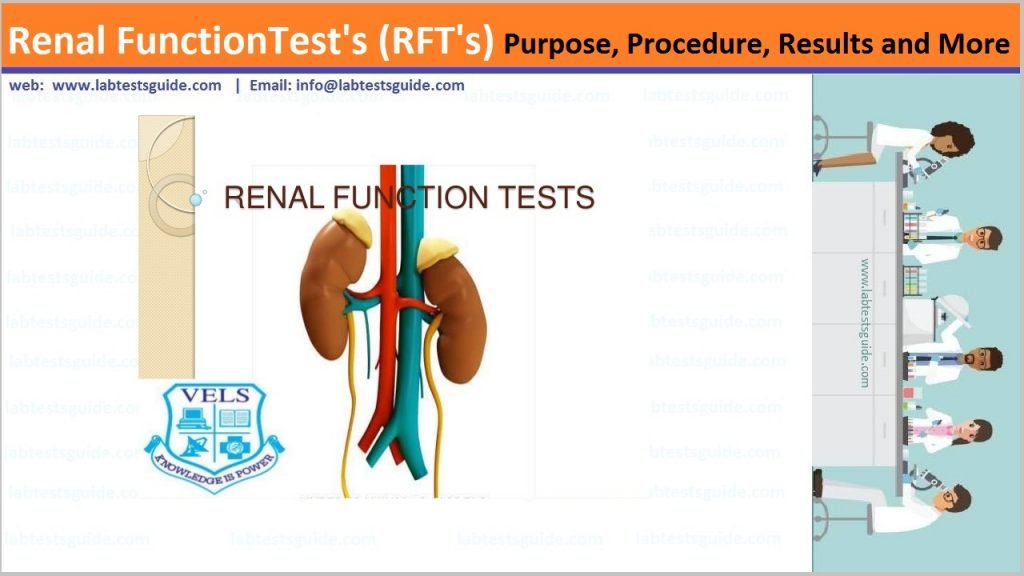 Also Known As: Kidney Panel, Kidney Function Panel , Renal Function Test, RFT,
Panel Tests: Urea, Blood Urea Nitrogen, Creatinine, Calcium, Phosphorus, Albumin, Magnesium, Total Protein, Electrolytes,
Kidneys play several vital roles in maintaining your health. One of their most important jobs is to filter waste materials from the blood and expel them from the body as urine. The kidneys also help control the levels of water and various essential minerals in the body.
Why Get Tested :
These tests diagnose any kind of renal disease.
These tests can tell the prognosis of the patient.
Can assess the remaining functional capacity of the kidneys.
When To Get Tested?
When you have signs and symptoms that suggest that you may have a condition affecting the function of your kidneys
When you are being treated for kidney disease
When you have certain risk factors for kidney disease, such as high blood pressure or diabetes
Sample Required:
These tests are done on the serum or plasma of the patient.
A urine sample may also be needed.
The specimen is stable for several days at 4 to 6 °C and for at least 2 to 3 months when frozen.
Creatinine sample is stable when refrigerated for 24 hours.
Precautions for Sample
Avoid high concentration of Na fluoride as this inhibits urease.
Discontinue Vitamin B12 supplement at least 72 hours before sampling.
Routine Renal Function tests are:
---
---
---
Possible References Used
---