Monkeypox is a viral disease in the same family as smallpox, although its symptoms are usually not as severe. Scientists have known about it since 1958, when it was found in laboratory monkeys used for research. Monkeypox is most common in central and western Africa. But in May 2022, health officials began reporting an outbreak of the virus in several regions outside of Africa.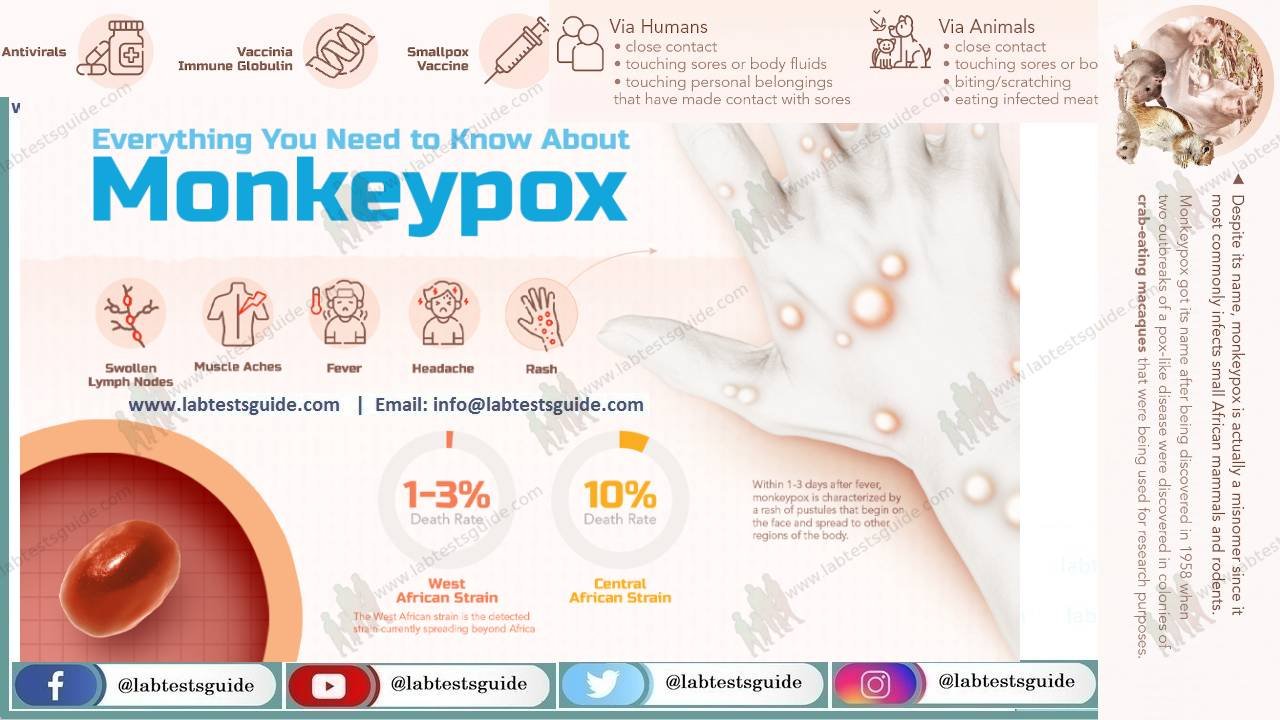 How serious is monkeypox ?
The illness usually runs its course in 2 to 4 weeks. It can be quite serious, especially in children who have been exposed to a large amount of the virus or in people with other health conditions or weak immune systems.
How can monkeypox spread:
Monkeypox can be spread to anyone through close personal contact, often skin-to-skin, including:

Direct contact with monkeypox rash, scabs, or body fluids from a person with monkeypox.
T ouching objects, fabrics (clothes, bedding, or towels), and surfaces that have been used by someone with monkeypox.

Contact with respiratory secretions.

This direct contact can occur during intimate contact, including:

Oral, anal, and vaginal sex or touching the genitals (penis, testicles, labia, and vagina) or the anus (anus) of a person with monkeypox.
Hugs, massages and kisses.
Prolonged face-to-face contact.
Touching fabrics and objects during sexual intercourse that were used by a person with monkeypox and have not been disinfected, such as bedding, towels, fetish items, and sex toys.

A pregnant woman can transmit the virus to her fetus through the placenta.
Symptoms of MonkeyPox:
Symptoms of monkeypox can include:
Fever
Headache
Muscle aches and back pain
swollen lymph nodes
Shaking chills
Exhaustion
Respiratory symptoms (for example, sore throat, nasal congestion, or cough)
A rash that can be located on or near the genitals (penis, testicles, lips, and vagina) or the anus (anus), but can also be on other areas such as the hands, feet, chest, face, or mouth .

The rash will go through several stages, including scabbing, before it heals.
The rash may look like pimples or blisters and may be painful or itchy.
You may experience all or just some of the symptoms.
Sometimes people have a rash first, followed by other symptoms. Others only experience a rash.
Most people with monkeypox will have a rash.
Some people have developed a rash before (or without) other symptoms.
Diagnosis:
Your doctor will look at your lesions and ask in detail about your symptoms, such as when you likely came into contact with the virus. They will try to rule out similar conditions such as:
A lab test can determine if you have monkeypox.
Treatment:
There are no specific treatments for monkeypox virus infections. However, monkeypox and smallpox viruses are genetically similar, which means that antiviral drugs and vaccines developed to protect against smallpox can be used to prevent and treat monkeypox virus infections.
Keywords: monkeypox,monkeypox vaccine,monkeypox symptoms,monkeypox outbreak,monkeypox virus,what is monkeypox,monkeypox news,monkeypox cases,monkeypox 2022,monkeypox disease,monkeypox uk,monkeypox vs smallpox,monkeypox outbreak 2022,monkeypox transmission,monkeypox in us,monkeypox pandemic,monkeypox treatment,monkeypox explained,monkeypox california,uk monkeypox,us monkeypox,nyc monkeypox,monkeypox nyc,monkeypox bbc,california monkeypox outbreak
What is monkeypox?
Monkeypox is a disease caused by a virus similar to smallpox, but symptoms from monkeypox are usually milder.  
Infections with the type of monkeypox in this 2022 outbreak are rarely fatal, but symptoms can be painful. 
How is monkeypox spread?

Monkeypox spreads in different ways. The virus can spread from person-to-person through:  
Direct contact with the infectious rash, scabs, or body fluids.
Respiratory secretions during prolonged face-to-face contact, or during intimate physical contact, such as kissing, cuddling, or sex. 
Touching items such as clothing, bedding, or towels that have been used by someone with monkeypox. 
What are the signs and symptoms of monkeypox?
Monkeypox symptoms usually start within three weeks of exposure to the virus, and may include:  
Fever 
Chills 
Headache 
Muscle aches 
Exhaustion 
Swollen lymph nodes 
Clear or pus-filled bumps
What steps can I take to prevent getting monkeypox?
Wash your hands often with soap and water or use an alcohol-based hand sanitizer.  
Avoid close contact with and handling linens of people with monkeypox. 
Avoid enclosed spaces where there is intimate or sexual contact. 
Avoid parties or clubs where attendees wear minimal clothing and where there is direct, personal, skin-to-skin contact.  
At this time, the risk of monkeypox in the United States is believed to be low. However, anyone in close contact with a person with monkeypox can get it and should take steps to protect themselves.
What should I know about the monkeypox vaccine?
Vaccines are available in limited supply:
People with known or suspected exposure to monkeypox.  
Men who have sex with men, or transgender individuals, who report any of the following in the last 90 days:Having multiple or anonymous sex partners
Being diagnosed with a sexually transmitted infection
Receiving HIV pre-exposure prophylaxis (PrEP)
Certain healthcare workers and public health response team members designated by public health authorities
Rash Examples:
---
Possible References Used
---