An albumin-creatinine ratio test compares the amounts of albumin and creatinine in your urine.
Albumin (say "al-BYOO-mun") is normally found in the blood. When the kidneys are damaged, small amounts of albumin (microalbumin) leak into the urine.
Creatinine (say "kree-AT-uh-neen") is a waste product found in urine.
Albumin creatinine ratio (ACR) in urine is a sensitive and specific measure of kidney damage. Urinalysis for
albuminuria has been accepted as a useful way of identifying patients at risk of progressive Chronic Kidney Disease (CKD). Increased urinary albumin excretion is highly predictive of Diabetic Nephropathy, End -stage renal disease, Cardiovascular mortality and total mortality in patients with Diabetes Mellitus.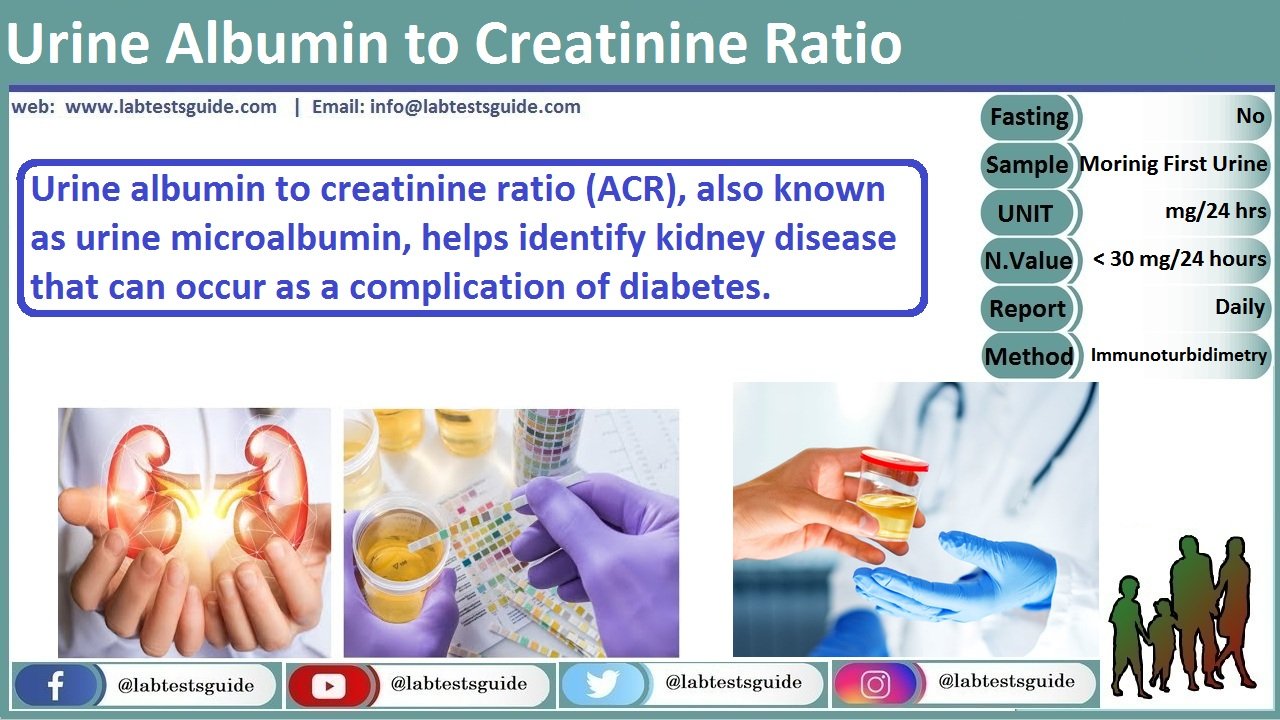 Urine albumin to creatinine ratio (ACR), also known as urine microalbumin, helps identify kidney disease that can occur as a complication of diabetes.
Why is this test done :
This test helps your doctor see how well your kidneys are working. It is done most often to check the kidneys in people with diabetes or chronic kidney failure. It may also be done to check people with high blood pressure, heart failure, and cirrhosis.
When to get tested :
Annually after a diagnosis of diabetes or hypertension
Test Preparation :
Tell your doctor if you are having your period or have vaginal discharge.
Your doctor or the lab likely will give you the container you need to hold the urine. You will get instructions on when and how to collect the urine. This might be a one-time sample or a number of samples over a period of time.
Sample Required:
The sample is urine.
It is better to do three random samples for a week.
The urine sample is stable at room temperature for up to 2 days and at 8 °C for up to 14 days.
Normal Value:
Source 1
Albumin in urine < 30 mg/24 hours
Or < 20 mg/day.
Or < 20 mg/L (urine collected in 10 hours).
Source 2
Abnormal value
Albumin > 30 mg/24 hours .
Or > 20 mg/L (in 10 hours).
limits with various dipsticks:
Albusure 2 to 3 mg/dl
Micral 1.5 to 2 mg/dl
Micro-Burnintest 4 to 8 mg/dl
Microalbuminuria Is Seen In:
Diabetes mellitus.
Myoglobinuria.
Nephrotoxic drugs.
Bence-Jones proteinuria.
Hemoglobinuria.
Any kind of Nephropathy.
Hypertension.
Myocardial infarction.
Atherosclerosis ( Generalized vascular disease ).
Lipid abnormalities.
Pre-eclampsia.
Keywords: albumin creatinine ratio,albumin to creatinine ratio,albumin creatinine ratio calculation,albumin creatinine ratio test,urine albumin creatinine ratio,creatinine,albumin creatinine ratio normal range,albumin creatinine ratio urine,albumin,albumin in urine,albumin creatinine ratio procedure,albumin creatinine ratio explained,urine albumin test,how to lower creatinine,how to breakdown bun creatinine ratio,urine albumin test in hindi,urine albumin, microalbumin,microalbumin urine test,microalbumin target,urine microalbumin test,microalbumin test final,microalbumin urine test in hindi,normal range of microalbumin urine test,urine microalbumin,lower microalbumin,microalbumin urine,microalbumin kya hai,microalbumin test price,how to lower microalbumin,microalbumin levels in diabetes,how to get lower microalbumin levels,macr microalbumin creatinine ratio,microalbumin creatinine ratio limit
---
Possible References Used
---