Uterus, also called womb, an inverted pear-shaped muscular organ of the female reproductive system, located between the bladder and the rectum. It functions to nourish and house a fertilized egg until the fetus, or offspring, is ready to be delivered.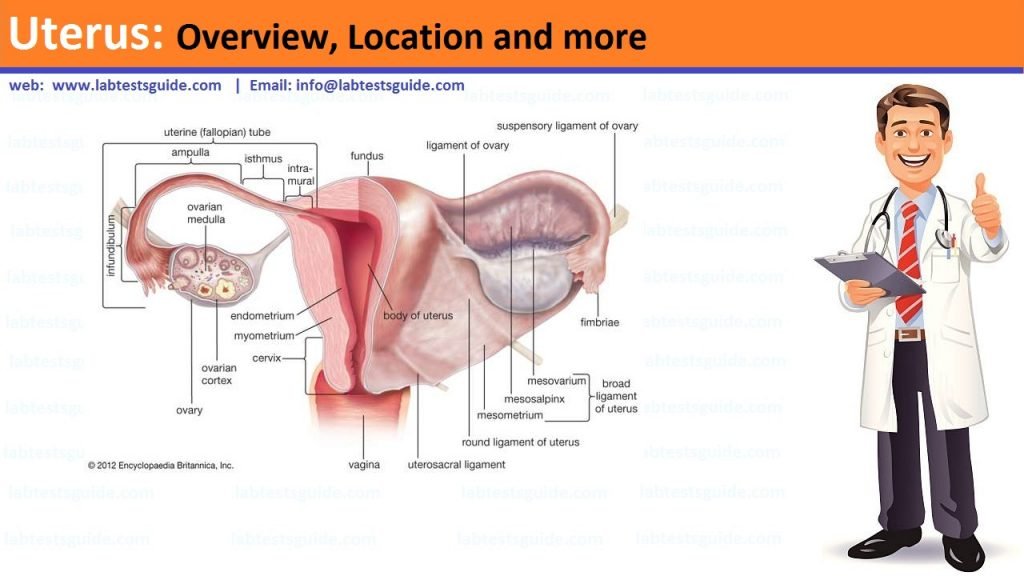 Urerus Location :
The uterus sits in the middle of the pelvis, behind the bladder and in front of the rectum. The actual position of the uterus within the pelvis varies from person to person. Each position has its own name:
Anteverted uterus. An anteverted uterus tips slightly forward.
Retroverted uterus. A retroverted uterus bends slightly backward.
Both of these positions are normal, and the position of the uterus can change throughout a woman's life, most frequently after a pregnancy.
Anatomy and Function:
Fundus
The fundus is the upper part of the uterus. It's broad and curved. The fallopian tubes attach to the uterus just below the fundus.
Corpus
The corpus is the main body of the uterus. It's very muscular and can stretch to accommodate a developing fetus. During labor, the muscular walls of the corpus contract to help push the baby through the cervix and vagina.
Isthmus
The portion of the uterus between the corpus and the cervix is called the isthmus. This is where the walls of the uterus begin to narrow toward the cervix.
Cervix
The cervix is the lowest part of the uterus. It's lined with a smooth mucous membrane and connects the uterus to the vagina. Glands in the cervical lining usually produce a thick mucus. However, during ovulation, this becomes thinner to allow sperm to easily pass into the uterus.
The cervix has three main parts:
Endocervix. This is the inner part of the cervix that leads to the uterus.
Cervical canal. The cervical canal links the uterus to the vagina.
Exocervix. The exocervix is the outer part of the cervix that protrudes into the vagina.
During childbirth, the cervix dilates (widens) to allow the baby to pass through the birth canal.
Symptoms of a uterine problem
The symptoms of many uterine conditions share some main symptoms, including:
very heavy periods
bleeding between periods
unusual or foul-smelling vaginal discharge
pelvic or lower-back pain
pain during menstruation or intercourse
pain during urination or bowel movements
Contact your doctor if you notice any of these symptoms. Using your medical history and physical exam, they can help to narrow down what might be causing them.
Diseases involving the uterus
There may be several pathologies and disease conditions involving the uterus. These include:
Uterine prolapse
Congenital abnormality of the uterus including congenital absence of the uterus Rokitansky Syndrome and others like Uterine Didelphys, bicornuate uterus and septate uterus
Benign or non-malignant tumors of the uterus or uterine fibroids
Adenomyosis
Cervix cancer
Cancer of the endometrium or uterine cancer
Pyometra – infection of the uterus
Adhesions within the uterus or Asherman's syndrome
---
Possible References Used
---