SOPs are written instructions that detail the steps to be performed during a given experimental procedure and include information about potential hazards and how these hazards will be mitigated. SOPs should be written by laboratory personnel who are most knowledgeable and most involved in the experimental process.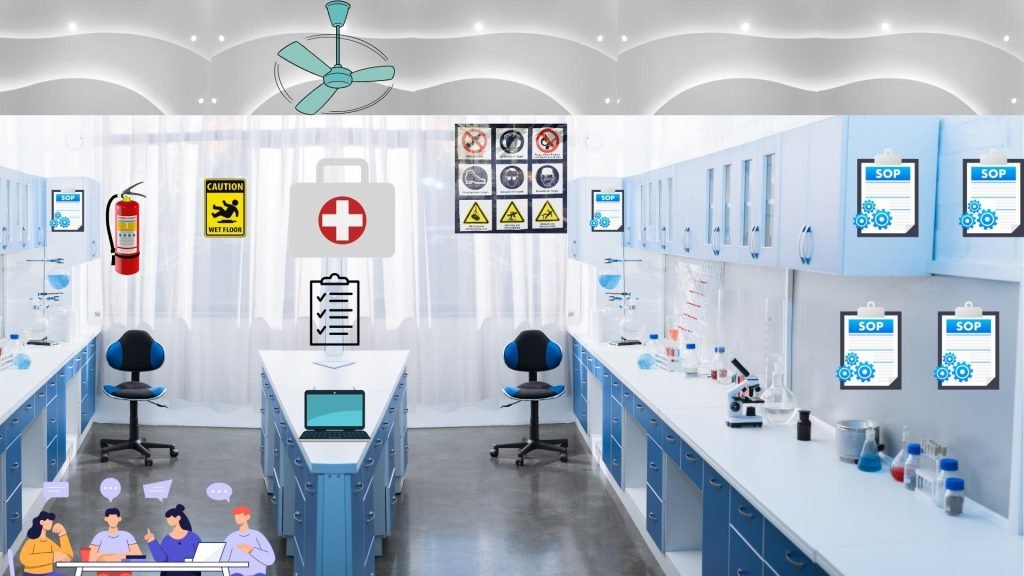 Management Responsibilities SOPs

The laboratory is easily identifiable: Signboard assign with with Logo, Name, Address, Contact Number and Registration or License Number.
Qualified Laboratory Staff: Make Sure The staff of laboratory has requisite and appropriate technical qualification and experience.
laboratory has plans for fire and non-fire emergencies: Displayed safe exit points in case of fire and non-fire emergencies, Staff members are trained for their role in case of such emergencies
Facility work flow design: Space allocation and effective separation between administrative and technical laboratory Sections like Reception, Phlebotomy, Test Performing areas and wast areas.
Recruitments: make sure Recruitments are made according to laid down eligibility criteria
Staff Awareness: Make sure Each staff member is made aware of laboratory policies , procedures, Lab section/unit/service/program, his/her rights , patients' rights and responsibilities.
Performance of employees: Make sure All of the employees are made aware of the performance appraisal tools and Performance appraisal is carried out at predefined intervals and is documented.
Employees Records: Personal files are maintained of all full time/part time, in service or existing employees
Employees Training and Qualification: Make sure Training plan for staff members is available. All employees training and qualification are contained in the personal files.
Management of Equipments and othe Supplies: All the Equipments, Reagents, kits and other supplies to be documented and maintain the stock register with Purchased and expiry dates.
Reagent Storage SOPs: Make sure all re reagents and kits store on required temperature and maintain expiry dates.
Equipments Maintenance: Make sure regular periodic maintenance and calibration record of all the equipment is available in the log books. Log sheet, Engineer's Contact Number displayed on each equipment.
Patient's Record: Maintain record with unique identifier Number of every patient. Every patient Record including Patient Name, Age, Contact Number and with Date and time of Registration.
Reporting System : Deliver the Computerised Reports and maintain critical results and notifiable diseases record.

QualityAssurance(QA):

External quality assurance (EQA): Maintain the Record of external quality assurance (EQA) Reports.
Internal Quality Assurance (IQA): Policies and procedures guide the (Collection of specimens, identification and proper labeling of specimens, handling of specimens, Transportation of specimens, processing of specimens, disposal of specimens)

Biosafety and Biosecurity SOPs:

Manage the laboratory biosafety SOPs and communicated to the qualified laboratory employees and ensuring biosafety activities Regular.
Make sure Annual medical check-up and receive regular vaccination of all staff is documented.
Patient biosafety is ensured and documented. Make sure Proper ventilated waiting areas for patients are available and not allowed patients inside the laboratory working area.
Written laboratory waste management SOPs. SOPs are communicated to the laboratory employees.
SOP Articles
RSS Error: https://www.labtestsguide.com/category/sops/rss is invalid XML, likely due to invalid characters. XML error: > required at line 250, column 16
---
Possible References Used
---