A molar pregnancy is a rare pregnancy complication characterized by abnormal growth of trophoblasts, the cells that normally develop in the placenta.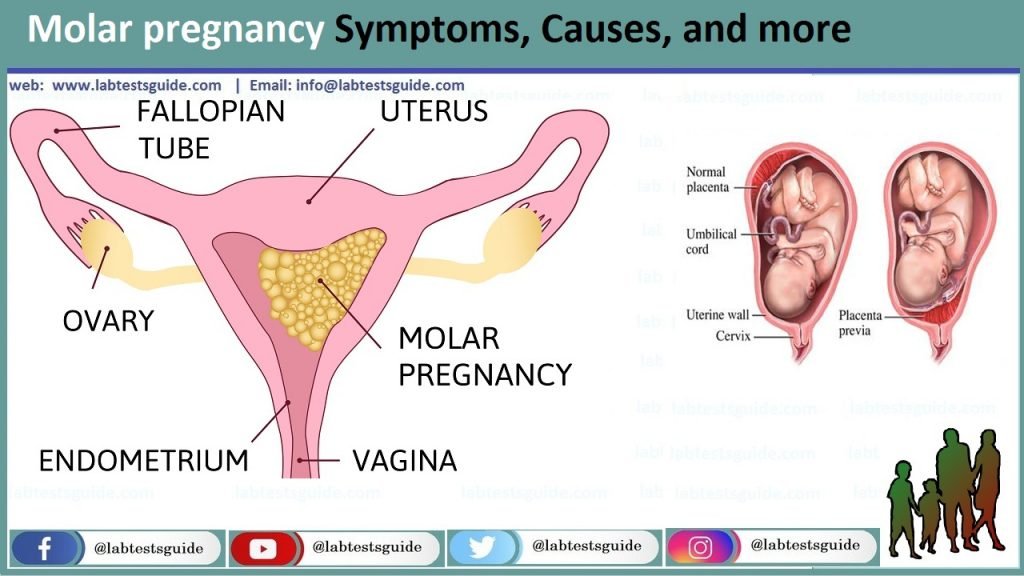 There are two types of molar pregnancy, complete molar pregnancy and partial molar pregnancy. In a complete molar pregnancy, the placental tissue is abnormal and inflamed and appears to form fluid-filled cysts. There is also no formation of fetal tissue. In a partial molar pregnancy, there may be normal placental tissue along with abnormally formed placental tissue. There may also be formation of a fetus, but the fetus cannot survive and a miscarriage usually occurs early in the pregnancy.
Symptoms:
A molar pregnancy may seem like a normal pregnancy at first, but most molar pregnancies cause specific signs and symptoms, including:
Dark brown to bright red vaginal bleeding during the first trimester
Severe nausea and vomiting
Sometimes the vaginal passage of grape-shaped cysts.
Pelvic pressure or pain
Causes:
A molar pregnancy is caused by an abnormally fertilized egg. Human cells normally contain 23 pairs of chromosomes. One chromosome in each pair comes from the father and the other from the mother.
In a complete molar pregnancy, an empty egg is fertilized by one or two sperm, and all the genetic material comes from the father. In this situation, the mother's egg chromosomes are lost or inactivated and the father's chromosomes are duplicated.
In a partial or incomplete molar pregnancy, the mother's chromosomes remain, but the father provides two sets of chromosomes. As a result, the embryo has 69 chromosomes instead of 46. This most often occurs when two sperm fertilize an egg, resulting in an additional copy of the father's genetic material.
Related Articles:
Nervous tissue is the term for groups of organized cells in the nervous system, which […]

Muscle tissue is composed of cells that have the special ability to shorten or contract […]

Epithelial tissues are widespread throughout the body. They form the covering of all body surfaces, […]

Morphology, peripheral blood smear, biochemical tests and preliminary investigations for the diagnosis of iron deficiency […]

Ion selective electrode (ISE) is an analytical technique used to determine the activity of ions […]

List of Basic Calculations/Formulas Used in Clinical and Medical Laboratories for Generate Results and any […]

The presence of two or more embryos in the uterus. Twin and higher gestations have […]

Stillbirth is the clinical term for stillbirth used to describe the death of a baby […]