This test measures the amount of elastase in your stool. Elastase is an enzyme produced by special tissue in the pancreas, an organ in the upper abdomen. Elastase helps break down fats, proteins, and carbohydrates after eating. It is a key part of your digestive process.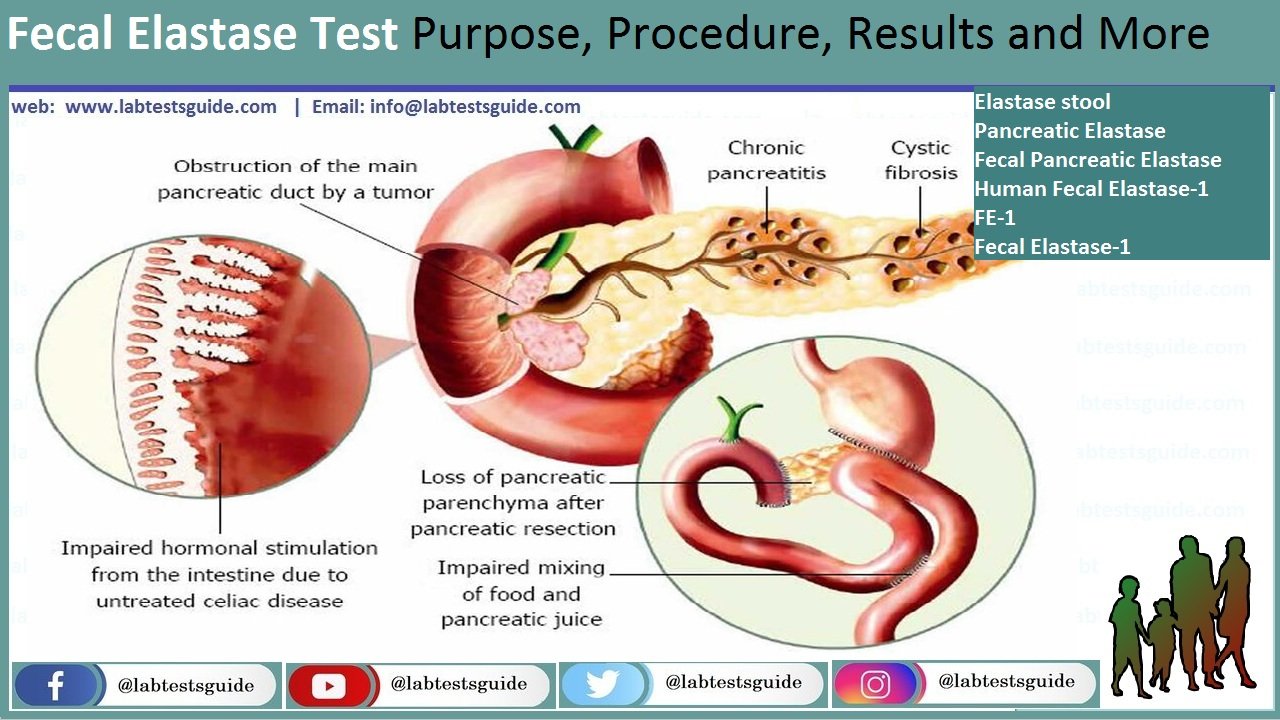 Also Known As: Elastase stool, Pancreatic Elastase, Fecal Pancreatic Elastase, Human Fecal Elastase-1, FE-1
Formal Name: Fecal Elastase-1
In a healthy pancreas, elastase will be eliminated in the stool. If little or no elastase is found in the stool, it may mean that this enzyme is not working as it should. This is called pancreatic insufficiency. Pancreatic insufficiency can cause a number of health problems, including malabsorption and malnutrition, disorders that affect your ability to digest and absorb nutrients from food.
In adults, pancreatic insufficiency is usually a sign of chronic pancreatitis. Pancreatitis is an inflammation of the pancreas. Chronic pancreatitis is a long-term illness that tends to get worse over time. It can cause permanent damage to the pancreas. Acute pancreatitis, another form of the disease, is a short-term condition. It is usually diagnosed with blood and / or imaging tests, rather than a stool elastase test.
Why Get Tested?
When To Get Tested?
You may need a stool elastase test if you or your child has symptoms of pancreatic insufficiency. These include:
Abdominal pain
Smelly, greasy stools
Malabsorption, a disorder that affects your ability to digest and absorb nutrients from food. It can cause malnutrition, a condition in which your body does not get the calories, vitamins, and/or minerals needed for good health.
Losing weight without trying. In children, this can delay growth and development.
Sample required?
A newly formed stool sample that is not contaminated with urine
Test Preparation Needed?
If you are taking pancreatic enzymes, you may be asked to stop them for 5 days before your stool collection.
What happens during a stool elastase test?
You will need to provide a stool sample. Your provider or your child's provider will give you specific instructions on how to collect and ship your sample. Your instructions may include the following:
Put on a pair of rubber or latex gloves.
Collect and store the stool in a special container given to you by your health care provider or a lab. You may get a device or applicator to help you collect the sample.
Make sure no urine, toilet water, or toilet paper mixes in with the sample.
Seal and label the container.
Remove the gloves, and wash your hands.
Return the container to your health care provider or the lab by mail or in person.
Normal Values:
Related Articles:
RSS Error: https://www.labtestsguide.com/category/microbiology/feed is invalid XML, likely due to invalid characters. XML error: > required at line 2865, column 16
---
Possible References Used
---