Epithelial cells are cells that come from surfaces in your body, such as your skin, blood vessels, urinary tract or organs. They serve as a barrier between the inside and outside of your body and protect it from viruses. A small amount of epithelial cells in your urine is normal.
A urinalysis is a test of your urine. A urinalysis is used to detect and manage a wide range of disorders, such as urinary tract infections, kidney disease and diabetes.
A urinalysis involves checking the appearance, concentration and content of urine. Abnormal urinalysis results may point to a disease or illness.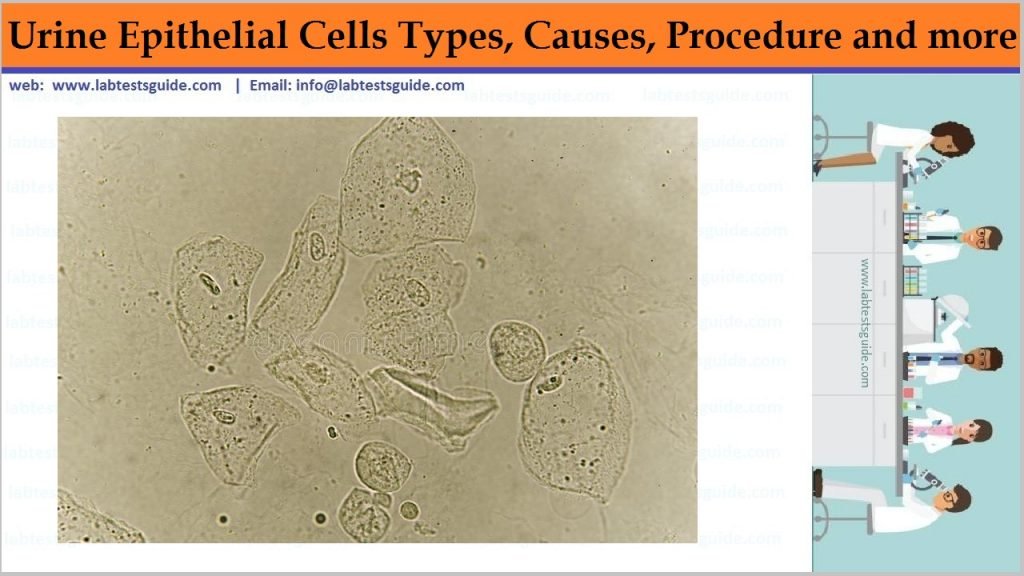 Also Known as: White Blood Cells, Pus Cells, Leukocytes
Test Panel: Physical properties, Chemical Tests, Dipstick Tests, Microscopic Examination
Type of urine samples:
Random sample:
This is a diluted urine sample and may give an inaccurate interpretation of patient health. But is best to do microscopy to evaluate WBC or RBC.
First Morning sample:
This is the best sample for microscopy and urine analysis. This is the concentrated urine because of urine remained throughout the night in the urinary bladder. This will contains an increased concentration of analytes and cellular elements. Urine must have remained in the bladder for 8 hours is considered as the first-morning sample.
Urine for sugar (Postprandial 2 hours):
Postprandial 2 hours sample collected after 2 hours of high carbohydrate diet.
Midstream clean catch urine:
This sample is needed for the culture and sensitivity of urinary infection. The patient is advised to clean the urethra, then discard the first few mL of urine. Now midstream of the urine is collected in the sterile container.
24 Hours of a urine sample

In this case, discard the first urine and note the time.
Now collect urine in the container for 24 hours and put the last sample in the container.
Refrigerate the sample.
This 24 hours samples are needed for measuring urea, creatinine, sodium, potassium, glucose, and catecholamines.

Suprapubic collection of the urine sample:
This is done in the patients who cannot be catheterized and the sample is needed for culture. This sample is collected by the needle.
Catheter collection of urine:
This is done by patients who are bedridden and can not urinate.
Pediatric urine sample:
In infants, special collection bags are made adherent around the urethra. Then urine is transferred to a container.
Urine Epithelial Cells
Epithelial cells are cells that come from surfaces in your body, such as your skin, blood vessels, urinary tract or organs. They serve as a barrier between the inside and outside of your body and protect it from viruses. A small amount of epithelial cells in your urine is normal.
Why Get Tested:
Your health care provider may have ordered an epithelial cells in urine test as part of your regular checkup or if your visual or chemical urine tests showed abnormal results. You may also need this test if you have symptoms of a urinary or kidney disorder. These symptoms may include:
Frequent and/or painful urination
Abdominal pain
Back pain
Types of epithelial cells
Epithelial cells differ by size, shape, and appearance. There are three types of epithelial cells that can be found in your urine, depending on their origin:
Renal tubular. These are the most important of the epithelial cells. An increased number can mean a kidney disorder. They're also called renal cells.
Squamous. This is the largest type. They come from the vagina and urethra. This type is most often found in female urine.
Transitional. They can come from anywhere between the male urethra and the renal pelvis. They're sometimes called bladder cells, and are more common in older adults.
Risk Factor of Epithelial cells:
You may be at increased risk for high counts of epithelial cells if you:
have kidney stones
have a weakened immune system
have diabetes
have high blood pressure
have a family history of chronic kidney disease
have an enlarged prostate
are pregnant
are of African, Hispanic, Asian, and American Indian descent
Epithelial cells
Mainly these cells are shed from the urethra and urinary bladder.
Few renal epithelial cells are seen normally in the sediment.
Epithelial cells are the following types :

Squamous epithelial cells
Transitional epithelial cells
Renal epithelial cells.
Squamous Epithelial cells
These cells line the female urethra, trigone, and male urethra.
These cells also line vagina and in the female, these are the source of contamination.
These cells have little significant but helpful to focus the microscope
Clue cells are a special type of squamous cells and take origin from the vagina. These are covered by coccobacilli and indicate bacterial vaginitis.
Transitional Epithelial cells
These are stratified epithelial lining of the urinary tract system starting from the pelvis of the kidney to base of the urinary bladder in female and proximal part of the male urethra.
These are 4 to 6 times of normal RBC size.
Normal urine may contain few transitional cells.
Renal cells exfoliate more in :

Inflammatory process and infection.
Malignancies.
After radiation and these become large in size and have multiple nuclei.
After catheterization or washing of urinary bladder.

These cells need special stains.
Renal Epithelial cells
These cells line the proximal to distal convoluted tubules, small and large collecting ducts.
Normally a few cells may be found in the urine sediment.
Increased number is significant indicating renal disease.
Critical number is more than 15 cells / 10 HPF.
These increased cells are seen in :

Acute tubular necrosis.
Viral infections.
Rejection phenomenon.

These are not easily identified in the centrifuged material. It needs special stains.
Normal Range:
In male are occasional.
In female are 5 to 7 / HPF.
Epithelial Cells are Seen in :
Yeast infection
Certain types of cancer
Related Articles:
RSS Error: https://www.labtestsguide.com/category/microbiology/feed is invalid XML, likely due to invalid characters. XML error: > required at line 2849, column 16
---
Possible References Used
---