Tag:
gram negative
Gram-negative bacteria are bacteria that do not retain the crystal violet stain used in the gram-staining method of bacterial differentiation.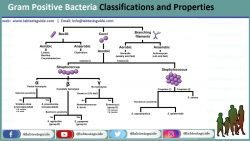 Gram-positive bacteria are the genus of bacteria family and a member of the phylum Firmicutes. These bacteria retain the colour of the crystal violet stain which is used during gram staining.
Gram staining is initially established by the physician Hans Christian Gram, which was from Denmark. He help to distinguish Klebsiella pneumonia to pneumococci.