Ketones (ketone bodies) are by-products of fat metabolism, and ketone blood tests are primarily used to detect, and monitor a serious, sometimes life-threatening condition called diabetic ketoacidosis (DKA).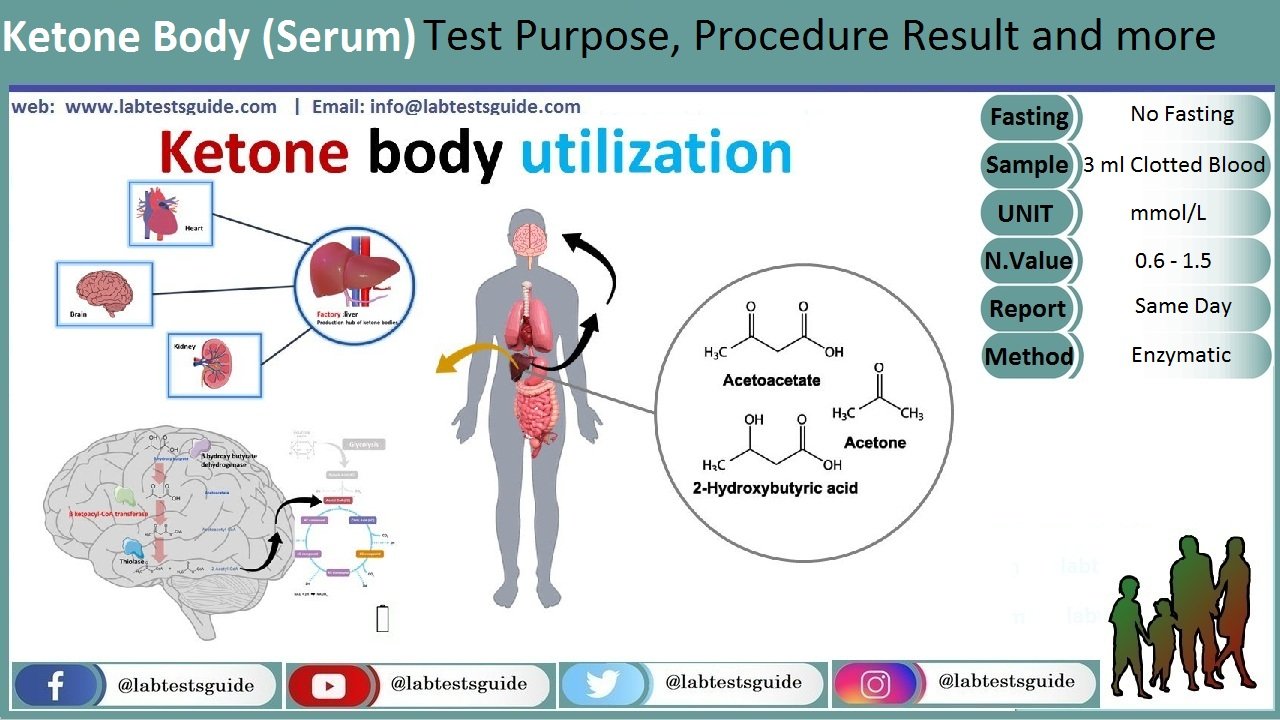 Why get tested:
To determine the amount of ketones (ketones, acetoacetate, beta-hydroxybutyrate, and acetone) in your blood to help diagnose life-threatening problems such as diabetic ketoacidosis (DKA) or alcoholic ketoacidosis (AKA)
When to get tested:
When you have symptoms associated with ketoacidosis, such as increased urination, excessive thirst, dehydration, rapid breathing, and shortness of breath.
Normal Value:
Blood Ketone Bodies: 0.6 – 1.5 mmol/l
Signs And Symptoms
This condition is seen in carbohydrates deficiency or starvation or frequent vomiting.
The patient will have a thirst and a dry mouth.
Increased frequency of urine.
There is easy fatigue.
There may be nausea, vomiting, and abdominal pain.
There is a fruity odor breath.
Difficult in concentration and confusion.
This condition may become very serious if not treated in time.
Laboratory Diagnosis
Blood glucose: level is 300 to 500 mg/dL or higher.
Ketones bodies: These are positive in the urine and their level in the blood is increased.
Electrolytes: Sodium is decreased.

Potassium is increased.

Blood gasses: There is metabolic acidosis.

The pH is low.
Bicarbonate markedly decreased.
Increased Ketones In:
Diabetic Ketoacidosis
Acute illness, especially in children (febrile illness, Gastroenteritis, dehydration)
Alcoholic Ketoacidosis (similar to Starvation Ketosis)
Starvation Ketosis

Ketoacids increase 10 fold to >1 mmol/L after 3 days of Fasting

Type I Glycogen Storage Disease (Von Gierke's Disease)
Isopropanol Ingestion (Isopropyl Alcohol or Rubbing Alcohol)

Only found on acetone testing
Does NOT raise serum Beta-Hydroxybutyrate levels (most common modern day testing modality)
Does not result in a Metabolic Acidosis with Anion Gap
Keywords: Bodies, Ketone, Ketone Bodies, ketone body, Ketone bodies (substance), Ketone bodies, Ketone body, Ketone body (substance), Ketone Bodies [Chemical/Ingredient], body ketone, bodies ketones, ketone bodies, body ketones, Ketone body analyte
---
Possible References Used
---