General Purpose media is designed to grow most organisms and do not contain growth inhibitors. Standard Methods Agar and Blood Agar Bases are examples of general purpose media.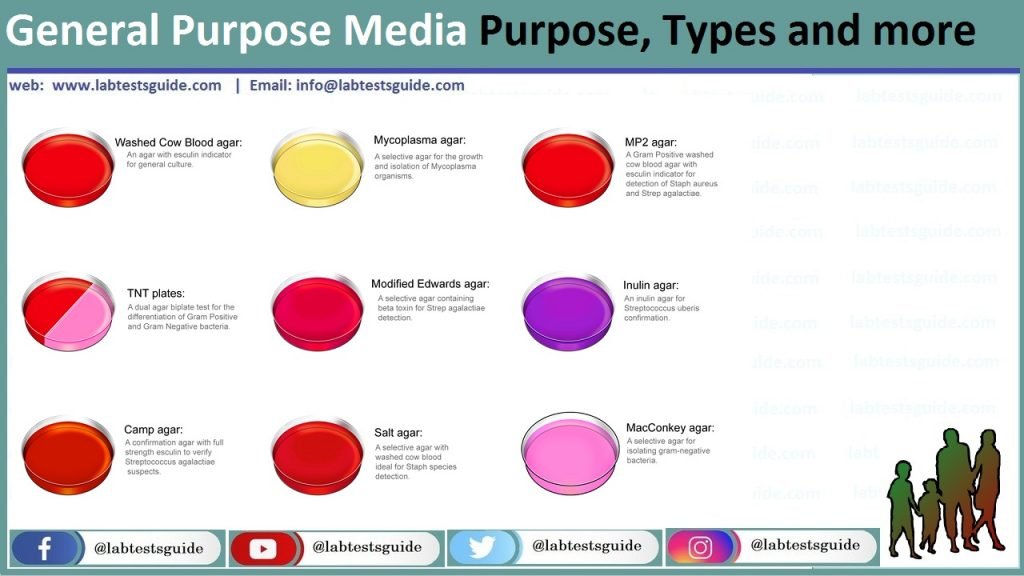 Basal media are basically simple media that supports most non-fastidious bacteria. Peptone-water, nutrient broth, and nutrient agar (NA) are considered as basal medium. These media are generally used for the primary isolation of microorganisms.
General purpose media for growing fastidious pathogenic Gram negative (FGN) bacteria are limited to non-selective blood and chocolate agar. These suffer from excessive contamination with fungi, Gram positive, and Gram negative bacteria, especially Pseudomonas spp. MacConkey agar can be modified to grow Haemophilus, Helicobacter, Campylobacter and other FGN without the use of antibiotics. BNO100 and BNO70 media were based on MacConkey medium. BNO1-4 were Blood Agar Base containing crystal violet and no bile salts. All media were made as chocolate agar with 8% defibrinated sheep blood, yeast extract 0.5%, glycerol 0.5% (v/v), vitamins, and agar.
Types of Culture Media :
There are some types of important culture or growth media used in microbiological laboratories:
Related Articles:
RSS Error: https://www.labtestsguide.com/category/microbiology/feed is invalid XML, likely due to invalid characters. XML error: > required at line 2865, column 16
---
Possible References Used
---