A stroke occurs when a blood vessel in the brain ruptures and bleeds, or when there's a blockage in the blood supply to the brain. The rupture or blockage prevents blood and oxygen from reaching the brain's tissues.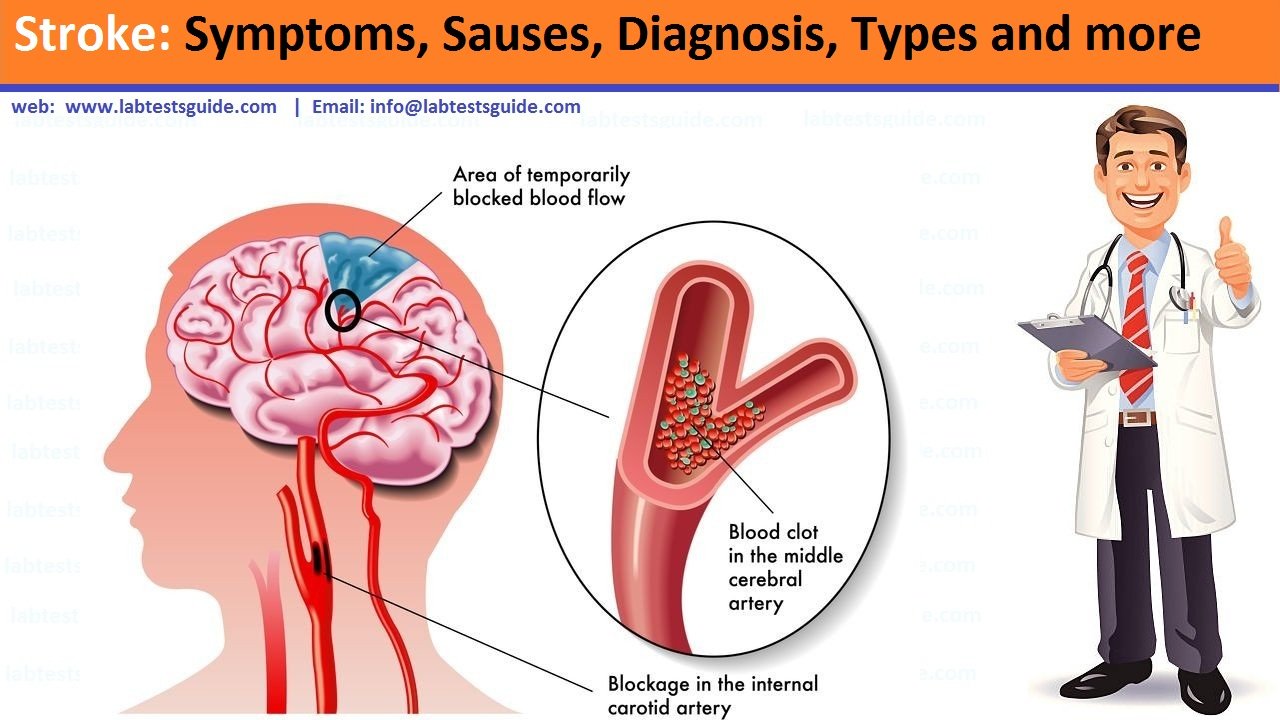 Types of stroke
Strokes fall into three main categories:
Transient ischemic attack (TIA)
Ischemic stroke
Hemorrhagic stroke.
These categories are further broken down into other types of strokes, including:
Embolic stroke
Thrombotic stroke
Intracerebral stroke
Subarachnoid stroke
Signs and Symptoms
Most strokes are preceded by one or more mini-strokes called Transient Ischemic Attacks (TIAs) that should act as a warning to seek medical attention immediately.

While symptoms of a stroke typically persist, symptoms of a TIA typically resolve on their own within a few hours. The five most common symptoms of a stroke or TIA are:
Sudden numbness, weakness, or paralysis of the face, arm, or leg, usually on one side of the body
Sudden loss of speech or trouble talking or understanding what is said
Sudden dizziness, loss of balance, coordination, or trouble walking
Sudden blurred vision or difficulty seeing in one or both eyes
Severe, unexplained headache
Causes of Stroke:
There are two main causes of stroke: a blocked artery (ischemic stroke) or leaking or bursting of a blood vessel (hemorrhagic stroke). Some people may have only a temporary disruption of blood flow to the brain, known as a transient ischemic attack (TIA), that doesn't cause lasting symptoms.
1. Ischemic stroke
This is the most common type of stroke. It happens when the brain's blood vessels become narrowed or blocked, causing severely reduced blood flow (ischemia). Blocked or narrowed blood vessels are caused by fatty deposits that build up in blood vessels or by blood clots or other debris that travel through your bloodstream and lodge in the blood vessels in your brain.
2. Hemorrhagic stroke
Hemorrhagic stroke occurs when a blood vessel in your brain leaks or ruptures. Brain hemorrhages can result from many conditions that affect your blood vessels. Factors related to hemorrhagic stroke include:
Uncontrolled high blood pressure
Overtreatment with blood thinners (anticoagulants)
Bulges at weak spots in your blood vessel walls (aneurysms)
Trauma (such as a car accident)
Protein deposits in blood vessel walls that lead to weakness in the vessel wall (cerebral amyloid angiopathy)
Ischemic stroke leading to hemorrhage
A less common cause of bleeding in the brain is the rupture of an abnormal tangle of thin-walled blood vessels (arteriovenous malformation).
Transient ischemic attack (TIA)
A transient ischemic attack (TIA) — sometimes known as a ministroke — is a temporary period of symptoms similar to those you'd have in a stroke. A TIA doesn't cause permanent damage. They're caused by a temporary decrease in blood supply to part of your brain, which may last as little as five minutes.
Like an ischemic stroke, a TIA occurs when a clot or debris reduces or blocks blood flow to part of your nervous system.
Seek emergency care even if you think you've had a TIA because your symptoms got better. It's not possible to tell if you're having a stroke or TIA based only on your symptoms. If you've had a TIA, it means you may have a partially blocked or narrowed artery leading to your brain. Having a TIA increases your risk of having a full-blown stroke later.
Risk factors
Many factors can increase your stroke risk. Potentially treatable stroke risk factors include:
Lifestyle risk factors
Being overweight or obese
Physical inactivity
Heavy or binge drinking
Use of illegal drugs such as cocaine and methamphetamine
Medical risk factors
Other factors associated with a higher risk of stroke include:
Age — People age 55 or older have a higher risk of stroke than do younger people.
Race — African Americans have a higher risk of stroke than do people of other races.
Sex — Men have a higher risk of stroke than women. Women are usually older when they have strokes, and they're more likely to die of strokes than are men.
Hormones — Use of birth control pills or hormone therapies that include estrogen increases risk.
Prevention:
Knowing your stroke risk factors, following your doctor's recommendations and adopting a healthy lifestyle are the best steps you can take to prevent a stroke. If you've had a stroke or a transient ischemic attack (TIA), these measures might help prevent another stroke. The follow-up care you receive in the hospital and afterward also may play a role.
Many stroke prevention strategies are the same as strategies to prevent heart disease. In general, healthy lifestyle recommendations include:
Controlling high blood pressure (hypertension). This is one of the most important things you can do to reduce your stroke risk. If you've had a stroke, lowering your blood pressure can help prevent a subsequent TIA or stroke. Healthy lifestyle changes and medications are often used to treat high blood pressure.
Lowering the amount of cholesterol and saturated fat in your diet. Eating less cholesterol and fat, especially saturated fat and trans fats, may reduce the buildup in your arteries. If you can't control your cholesterol through dietary changes alone, your doctor may prescribe a cholesterol-lowering medication.
Quitting tobacco use. Smoking raises the risk of stroke for smokers and nonsmokers exposed to secondhand smoke. Quitting tobacco use reduces your risk of stroke.
Managing diabetes. Diet, exercise and losing weight can help you keep your blood sugar in a healthy range. If lifestyle factors don't seem to be enough to control your diabetes, your doctor may prescribe diabetes medication.
Maintaining a healthy weight. Being overweight contributes to other stroke risk factors, such as high blood pressure, cardiovascular disease and diabetes.
Eating a diet rich in fruits and vegetables. A diet containing five or more daily servings of fruits or vegetables may reduce your risk of stroke. The Mediterranean diet, which emphasizes olive oil, fruit, nuts, vegetables and whole grains, may be helpful.
Exercising regularly. Aerobic exercise reduces your risk of stroke in many ways. Exercise can lower your blood pressure, increase your levels of good cholesterol, and improve the overall health of your blood vessels and heart. It also helps you lose weight, control diabetes and reduce stress. Gradually work up to at least 30 minutes of moderate physical activity — such as walking, jogging, swimming or bicycling — on most, if not all, days of the week.
Drinking alcohol in moderation, if at all. Heavy alcohol consumption increases your risk of high blood pressure, ischemic strokes and hemorrhagic strokes. Alcohol may also interact with other drugs you're taking. However, drinking small to moderate amounts of alcohol, such as one drink a day, may help prevent ischemic stroke and decrease your blood's clotting tendency. Talk to your doctor about what's appropriate for you.
Treating obstructive sleep apnea (OSA). Your doctor may recommend a sleep study if you have symptoms of OSA — a sleep disorder that causes you to stop breathing for short periods repeatedly during sleep. Treatment for OSA includes a device that delivers positive airway pressure through a mask to keep your airway open while you sleep.
Avoiding illegal drugs. Certain street drugs, such as cocaine and methamphetamine, are established risk factors for a TIA or a stroke.
Tests
Diagnosis of a stroke is currently based mostly on non-laboratory testing, including a physical and neurological exam and a variety of imaging tests. Researchers continue to try to find laboratory tests, such as stroke biomarkers, that could be used in stroke screening, diagnosis, treatment, and management.
Possible biomarkers that could be helpful in risk assessment include Lp-PLA2, N-methyl-D-aspartate neuroreceptors (NMDAR), and NT-proBNP, while candidates for stroke diagnosis include antibodies to NR2A/2B and metalloproteinases (MMPs). It may be that a panel of biomarkers would be most effective as a diagnostic or risk assessment tool. These tests are not yet widely available, and their uses are mainly in research studies at present.
Other laboratory tests may be ordered to evaluate a patient suspected of having had a stroke or to rule it out, including:
Less commonly, one or more tests may be done in specific situations to identify conditions that contribute to risk of stroke. Some examples include:
Non-laboratory tests may include a CT scan or MRI of the brain to look for any injury as well as tests of electrical activity and blood flow in the brain.
Related Articles:
The Total T3 test measures the bound(T3) and free forms of T3(FreeT3) levels in the […]

A random blood sugar test checks your blood glucose at a random time of day. […]

A random blood sugar test checks your blood glucose at a random time of day. […]

A random blood sugar test checks your blood glucose at a random time of day. […]

A random blood sugar test checks your blood glucose at a random time of day. […]

A random blood sugar test checks your blood glucose at a random time of day. […]

Looking for the meaning of Cholinesterase Test, or its results or why is Cholinesterase Test […]

Looking for the meaning of Cholinesterase Test, or its results or why is Cholinesterase Test […]